Kid Rock: "F*ck no, I'm not running for Senate. Are you f*cking kidding me?"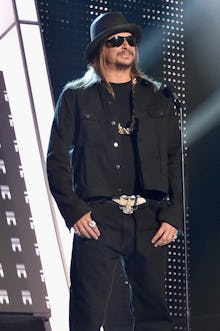 In July 2017, singer Kid Rock ignited a firestorm when he tweeted a link to the website Kid Rock for Senate. In the ensuing frenzy, many speculated the singer, whose real name is Robert James Ritchie, was considering an actual bid for U.S. Senate.
But at a Tuesday morning appearance on the Howard Stern Show, Ritchie put all those rumors to bed in the most Kid Rock way possible — that is to say, with a lot of cussing.
"Fuck no, I'm not running for Senate," Ritchie said. "Are you fucking kidding me? Who couldn't figure that out?"
Despite Ritchie's emphatic, expletive-laden incredulity, one really can't be faulted for thinking Kid Rock was seriously considering mounting a campaign for Senate: The singer's so-called "Senate" website was filled with what appeared to be populist campaign rhetoric.
"You never met a politician quite like me," one of Ritchie's messages said. "I believe if you work your butt off and pay taxes, you should be able to easily understand and navigate the laws, tax codes, health care and anything else the government puts in place that affects us all."
Though such messaging would feel more natural on a campaign trail, one imagines that even the most gifted songwriter would have trouble sailing those lyrics.
But it wasn't just Ritchie's website that fueled interest in his possible campaign: In July, the singer tweeted disparaging remarks at Democratic Sen. Debbie Stabenow of Michigan.
Days later, Ritchie would tweet that he was leading Stabenow among likely voters in a conservative-leaning poll.
At a recent concert in Detroit, Ritchie made clear his stances on some of the most hotly debated social issues.
"And why, these days, is everything so gay?" he asked behind a podium made to look like a White House dais. "Gay rights, transgender this and that. I say let gay folks get married if they want, and I'm not even close to a Democrat. But things shouldn't be this complicated, and no you don't get to choose, because whatever you have between your legs should determine the bathroom that you use."
He also expressed strong opposition to Nazis, the KKK and protesting NFL players.
"And if you wanna take a knee and sit there during our "Star-Spangled Banner," call me a racist because I'm not PC and think you have to remind me that black lives matter," he said. Nazis. F–king bigots. And now again the KKK? I say fuck all you racists. Stay the hell away."