Anti-Semitic fliers reading "Just Say No to Jewish Lies" found on Cornell's campus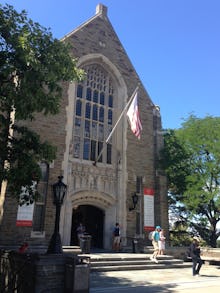 On Monday morning, students and faculty at Cornell University awoke to find anti-Semitic, white supremacist fliers posted on buildings around the university's Ithaca, New York, campus.
The fliers, which read, "Just say no to Jewish lies," featured a black-and-white image of a snake and a Jewish star. At the bottom was a swastika with the message, "Solar Cross Society. Join the white gang," according to a photo shared by the Cornell Daily Sun, a student-run paper.
In a statement sent out to the Cornell community on Monday, University President Martha Pollack condemned the fliers' "clear and hateful message of anti-Semitism and white supremacy" and added that "whoever is responsible for these fliers is hiding under the cover of anonymity ... they need to ask themselves why they chose our campus, because Cornell reviles their message of hatred; we revile it as an institution, and I know from many personal conversations that thousands of Cornellians deplore it individually."
Pollack also said in the statement that it appeared that the Solar Cross Society, the fliers' "supposed sponsoring organization does not exist."
A Cornell spokesperson declined to offer further comment to Mic about the incident on Tuesday.
In the past few months, there have been several incidences of white supremacist materials found distributed on college campuses across the U.S. In September, fliers endorsing the "Traditionalist Worker Party," a white nationalist hate group, were removed from the campus of the University of Tennessee, Knoxville.
Also in September, white nationalist fliers advocating for "the preservation of European culture" were found on the campus of the University of Louisville in Kentucky — they urged students to join a group called "the U of L Identitarians."
According to Evan Bernstein, the Anti-Defamation League's New York regional director, posters like the ones found on Cornell's campus on Monday are part of a larger effort to provoke fear on college campuses — and, he said, the ADL is seeing more and more incidents like this one.
"The ramp-up of this has been very significant," Bernstein said in a phone interview on Tuesday. Between Sept. 1 and Oct. 15 of this year, he said, there were 79 instances of hate group "flyering" on colleges campuses across the country.
"It's very, very scary for the students on campus," Bernstein said. "It's a concerted effort by the alt-right and white supremacists." Bernstein stressed the importance of school administrations responding to the incidents proactively and inclusively. And, he said, it's important for all of the student body to stand together, no matter who the hate groups are specifically targeting.
"We can't silo ourselves off in the same ways we've done in the past," he said. "When one person's hated, then everybody's hated."