Trump finally cut a check to the Gold Star father he'd promised $25,000 to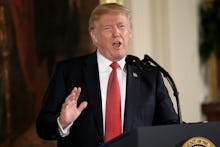 Months after promising the father of a fallen U.S. service member a check for $25,000, President Donald Trump has made good on his word.
Less than a week after the Washington Post ran an Oct. 18 report that Trump had not fulfilled his financial commitment to Chris Baldridge — whose son Army Cpl. Dillon Baldridge, was killed in Afghanistan in June — a check bearing the same date that the report was published showed up at Baldridge's house.
"I am glad my legal counsel has been able to finally approve this contribution to you," a letter from the president enclosed with the check read. "I hope this will make things a bit easier, but nothing will ever replace your son, Dillon. He was an American hero."
According to the Post, Trump had pledged the money during a condolatory call where he also offered to have his staff establish a memorial fund for Baldridge's 22-year-old son, but had never followed through on either promise.
The report prompted a response White House spokeswoman Lindsay Walters who said: "The check has been sent. It's disgusting that the media is taking something that should be recognized as a generous and sincere gesture, made privately by the president, and using it to advance the media's biased agenda."
In an interview given to ABC11 after he received the check, Baldridge said that he was "still speechless."
"We are so moved and grateful, and we promise to use the money to honor Dillon's legacy," he added.
A White House official said the delay in sending the check was due to "a substantial process that can involve multiple agencies anytime the President interacts with the public, especially when transmitting personal funds."
News of the check comes during a week when Trump has faced mounting backlash to his documented interactions with Gold Star families. On Oct. 17, Florida Rep. Frederica Wilson accused Trump of making insensitive comments during a call he made to give his condolences to the pregnant widow of Sgt. La David T. Johnson, who was killed in action in Niger last month.
Following the intense public outcry the incident received, the widow, Myeshia Johnson, appeared on Good Morning America to confirm Wilson's account.
"It made me cry because I was very angry at the tone of his voice and how he said it," Johnson said of Trump. "He couldn't remember my husband's name."