Top Congressional Republicans unveil their own health care plan to rival stalled bipartisan deal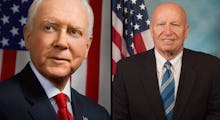 Amid a stalled bipartisan effort to provide a stopgap against the sudden evisceration of the Affordable Care Act's federal subsidies, two top Republican members of Congress announced on Tuesday a far more conservative proposal to stabilize the ACA's insurance markets.
The new proposal, drafted by Sen. Orrin Hatch of Utah and Rep. Kevin Brady of Texas, matches its bipartisan rival plan, Alexander-Murray, in that it continues funding for key insurer payments until 2019, the Hill reported. However, the proposal includes "pro-life protections" on funding for those cost-sharing reductions. It is immediately unclear what those protections will entail.
Perhaps the biggest difference between Hatch-Brady and Alexander-Murray is its gutting of the ACA's individual and employer mandates, which its cosponsors argue will relieve Americans from the burdens of former President Barack Obama's landmark federal health care overhaul.
"As I have said all along, if Congress is going to appropriate funds for cost sharing reductions, we must include meaningful structural reforms that provide Americans relief from Obamacare," Hatch said in a statement.
"Millions of families in Texas and across the country still trapped in Obamacare are desperately looking for relief — not a reinforcement of today's failed status quo," Brady said in a statement.
In a statement obtained by HuffPost, Republican Sen. Lamar Alexander, co-author of the bipartisan health care plan, tepidly praised his colleagues' bill for its contribution to the "growing consensus that Congress should fund" CSRs, but reminded his fellow GOP members that President Donald Trump asked Congress for a "bipartisan short-term proposal," which their bill is not.
On Sunday, Senate Majority Leader Mitch McConnell said he would only introduce a health care bill to the floor if he knew Trump would sign it.
"If there is a need for some kind of interim step here to stabilize the market, we need a bill the president will actually sign," McConnell said. "I'm not certain what the president's looking for here, but I'll be happy to bring a bill to the floor if I know President Trump would sign it."
His rival, Senate Minority Leader Chuck Schumer, urged McConnell to bring Alexander-Murray to a vote, affirming that it already has 60 senators who support it.
For his part, the president has vacillated in his support of the bill. On Wednesday, he tweeted that while he supported [Alexander], he could "never support bailing out [insurance companies] who have made a fortune [off of the ACA]."
However, on Thursday, CNN reported that the president was open to a short term solution.
"We will probably like a very short term solution until we hit the block grants," Trump said. "Anything they're working on will be short term. It will absolutely be short term. Because ultimately it's going to be repeal and replace."
The full legislative language of the Hatch-Brady bill will be available "in coming days," according to the release from Hatch and Brady.