Poll: A majority of Democrats want the party to move left and oppose its leadership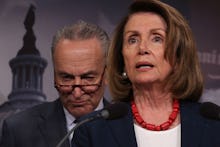 A new Harvard-Harris poll finds that the majority of Democrats and the overwhelming majority of young Democrats believe that the party is insufficiently to the left.
Fifty-two percent of Democrats polled say that they support "movements within the Democratic Party to take it even further to the left and oppose the current Democratic leaders."
The strongest support for moving the party left came from young Democrats with 69% of Democrats ages 18-34 saying the support those left movements.
The poll also found that Socialist Sen. Bernie Sanders (I-Vt.) continues his streak as the country's most popular major politician, with the highest favorables of any candidate among all respondents as well as among key subsets including African-Americans, Hispanic people and young people.
Meanwhile, nearly two thirds of respondents felt that the current investigations into President Donald Trump's ties to Russia are hurting the country more than helping. Only 51% of Democrats felt the investigation was helping, with the other 49% arguing it was hurting.
Those results, taken together, appear to bolster the left's broad critique of the Democratic Party, which accuses the party of focusing too much on feuding with Trump and not enough on building a coherent vision for the left.
The poll comes out at a time when the national Democratic Party is plagued by infighting over its direction and future. A recent staff shakeup at the Democratic National Committee have left many in the "Bernie-wing" of the party feeling as though party leadership is determined to excise them from positions of power.
Trump, for his part, remains significantly unfavorable, tied with his former presidential rival Hillary Clinton for the highest unfavorable rate in the country.
But Trump's net favorable rating is actually higher than Clinton's as well as several other high profile politicians including Paul Ryan, Mitch McConnell and Nancy Pelosi.