Protester posing as a journalist hurls Russian flags at Trump while shouting "Trump is treason!"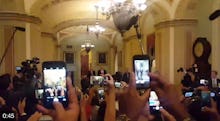 As President Donald Trump arrived to lunch Tuesday at the Capitol to discuss tax reform with the Senate GOP, a protester posing as a journalist hurled what appeared to be Russian flags at him as he passed by.
"Trump is treason!" the protester shouted as law enforcement removed him from the scene.
"Why is Congress talking about tax cuts when they should be talking about treason? This president conspired with agents of the Russian government to steal an election — we should be talking about treason in Congress, not about tax cuts."
Some journalists on the scene, including Nash Jenkins, political correspondent for Time, identified the protester as Ryan Clayton, president of Americans Take Action.
ATA was the group responsible for tricking Trump supporters into waving Russian flags at the Conservative Political Action Conference in February. The ATA's website calls for Trump's impeachment over alleged pro-Trump Russian interference into the 2016 presidential election.
The disruption came hours after two House committees announced a joint probe into a Russian company's 2010 purchase of a U.S. uranium company that controlled land equivalent to 20% of our nation's uranium supply. One day prior, NBC News reported that special counsel Robert Mueller had expanded his probe into Russian election interference to include Tony Podesta, brother of Hillary Clinton's former campaign chairman, John Podesta.