Brazil's MC Soffia is a 13-year-old rapper who makes rhymes to empower black girls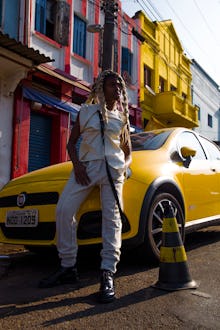 Soffia Rocha knew she wanted to be an emcee when she was just 6 years old. Her mom, Kamilah Pimentel, took her to a "Future of Hip Hop" workshop put on in their community on the outskirts of Brazilian megacity São Paulo, and it's there that she learned how to DJ, rap, breakdance and do graffiti. Pimentel wanted her daughter to have a strong sense of identity and to give her the confidence to stand up for herself when she was confronted with racism and sexism.
"I was always thinking about what to do so that she wouldn't suffer what I suffered," Pimentel said. "I wanted her to accept herself and to be strong when she was faced with racism."
Now that she's 13, MC Soffia is known for performing during the opening ceremony of the 2016 Rio Olympics and dropping rhymes meant to empower young African-Brazilian girls to be proud of their skin color and their culture.
"There are a lot of girls who tell me that my music has helped them accept their natural hair, their bodies, their skin color," Soffia said at a recent show put on by a cultural center for kids in São Paulo's west end. "To me, it's really important that my work is having that kind of effect, but at the same time I'm still having fun. I'm getting that message out, but I'm dancing, I'm singing, I'm having a good time. Because I'm still a kid."
At the show, girls, mostly under 10, lined up in front of the area where Soffia was set to perform in a favela that is part of the neighborhood known as Vila Gomes. When she asked them to help her sing "Africa," they happily screamed back the title of the song when Soffia rapped lines like, "where everything started" and "where my heart is."
"Africa," which pays homage to famous black Brazilian women, is one of Soffia's most popular songs, along with "Menina Pretinha" ("Little Black Girl"). On the latter, which has more than 1.5 million plays on YouTube, she raps, "I'm black and I'm proud of my color/ My hair is dope, it doesn't need a flat iron."
Her first EP, which doesn't have a name yet, is made up of four new songs that talk about "powerful girls, candy and dolls," as she put it. The forthcoming collection was expected to be released this year, but her changing voice led to some re-recordings, pushing its launch to early next year. (Her producer, Boss in Drama — who works with Brazilian rapper and Soffia collaborator Karol Conká — is also set to take on Soffia's full-length album after the EP is released, she said.) The EP's first single, "Barbie Black," which is all about beauty standards and equality, has heavier beats and a more mature sound than her earlier songs.
"My biggest inspiration is society," said Soffia, who only records and performs after school or on weekends. "It shows who are the haves and who are the have-nots. … I didn't start writing music because of racism, but society shows it to black girls, and that ended up inspiring me."
"Having a kid talking to a kid about these things is really important. ... We didn't have anyone like [Willow Smith] in Brazil. So now I represent girls." — MC Soffia
Most of the artists the young rapper looks up to are people you might expect — Beyoncé, Rihanna and Karol Conká — but the one person who really struck a chord with Soffia was American singer Willow Smith, whose 2010 hit, "Whip My Hair," was released when Smith was just 9 years old.
"Girls are already starting to become more empowered and accepting of themselves on their own," she said. "But having a kid talking to a kid about these things is really important. I've always been really inspired by Willow Smith. We didn't have anyone like her in Brazil. So now I represent girls."
While she's become one of the country's biggest hip-hop stars, rapping alongside Brazil hip-hop legends Racionais MC's and playing at the opening ceremony of the 2016 Rio de Janeiro Olympics, Soffia still makes it a point to attend those same community events where she learned the basics of hip-hop just seven years ago.
Her mom, who is also her writing partner and manager, remembers when Soffia first showed an interest in performing the rhyme she wrote at that initial hip-hop workshop. They were at a sarau — a cultural event meant for collaboration and artistic expression — when her daughter asked to join in and sing "Soffias," a song she still performs today.
"After that, she never wanted to stop," Pimentel said. "I brought her to hip-hop events because I was already part of the community and wanted to introduce her to the culture, but I never expected her to take it this far. If she hadn't told us that this is what she really wanted, we would never have known. But she loves it. She's always been the one saying, 'This is what I want to do.'"