This is the most common liberal arts major among billionaires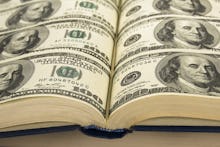 Forbes released its annual ranking of the top 400 U.S. billionaires on Monday, with the number one spot going again to Microsoft founder and philanthropist Bill Gates. While Gates' status as a college dropout makes him a bit of an outlier — since 84% of billionaires on the list had at least a bachelor's degree — his choice of a quantitative major does not.
Gates switched from pre-law to applied math before leaving Harvard in 1975 to found Microsoft. Out of the 290 billionaires on the 2017 list who shared their major, only 13 studied math specifically — but the most popular topic was also one that's heavy on numbers: economics. Econ was (perhaps unsurprisingly) the number one major, with 45 billionaires studying it, including New England Patriots owner Bob Kraft and TD Ameritrade co-founder Joe Ricketts. Econ was followed by business administration, which 42 people chose.
Yet liberal arts majors were actually represented well, too: The third most popular undergraduate major among the richest people was history, studied by 18 members of the list.
Makes sense, right? Many history lessons inform future leaders: The Great Depression, the fall of the Roman Empire and the rise of Mao Zedong, for example, all serve as salient case studies in leadership, (yes) economics, abuse of power and crisis management.
And while you can't always use the past as a playbook for the future, "past performance is nonetheless one of the best indicators we have about how the future might unfold," Seth Rockman, an associate professor of history at Brown University, told Forbes. "Business people grasp this intuitively, whether they track a price series ... or consider the different ways that human societies across time and space have enforced contracts or regulated transactions."
Here are three of the billionaires on the list who majored in history — plus some relevant lessons from the past (and present) that they embody:
1. John Sall, SAS
Forbes rank: 150/400
History is rife with inspired partnerships, from aviation pioneers Wilbur and Orville Wright to Apple founders Steve Jobs and Steve Wozniak. SAS Institute co-founder John Sall, now worth about $4.8 billion, took a page out of their book when he partnered with John Goodnight, whom he met at North Carolina State University, to found the statistical software firm in 1976.
Forty-one years later, SAS is one of the world's largest privately held software companies, with $3.2 billion in annual revenue.
2. Donald Sterling, real estate
Forbes rank: 212/400
Real estate magnate and former Los Angeles Clippers owner Donald Sterling, disgraced in 2014 for racist comments recorded on tape, appears to have forgotten a crucial history lesson.
A 2004 Harvard Business Review article called "More Trouble Than They're Worth," introduced the now-infamous "no asshole rule": In a nutshell, if you offend people enough, you'll eventually get kicked out of their ranks. That is exactly what happened when Sterling was banned for life from the NBA and his wife negotiated a forced sell of the Clippers.
But while Sterling lost his reputation, the 1956 graduate of California State University, Los Angeles, has gotten to keep his riches. Sterling's net worth is now $3.5 billion, with help from the sale of the Clippers for $2 billion (after he bought it for $12.5 million) as well as his Los Angeles real estate holdings.
3. Joe Shoen, U-Haul
Forbes rank: 288/400
With a net worth of $2.8 billion, U-Haul president and chairman Joe Shoen — who got his undergraduate degree from the College of the Holy Cross in Massachusetts — is perhaps best known for seizing power from his own father in 1986 and "alienating" most of his siblings.
Such filial uprisings are not uncommon: In 1995, Qatar's Hamad Bin Khalifa al-Thani similarly ousted his father, Emir Khalifa Bin Hamad al-Thani, from ruling the tiny emirate.
Of course, U-Haul's parent company Amerco now has $3.4 billion in annual sales, and Qatar is doing alright, too: It is considered the richest country in the world, with a GDP of $129,726 per capita.
What can we learn from the billionaires list?
If you don't like economics or history, take comfort in the fact that there are plenty of other majors that can lead to billionaire status. Other popular areas of study among the richest in the U.S. included electrical engineering, English, religion, drama and Japanese literature.
And not all billionaires went to Harvard like Bill Gates, of course. While 23% have Ivy League degrees, more than 150 schools total were represented.
Still, many list members have strong educational backgrounds: Nearly 40% of those who answered went to grad school. The most popular advanced degree is an MBA, earned by 72 people on the list, while 34 have law degrees. Just two — health care mogul Thomas Frist Jr. and pharmaceutical investor Phillip Frost — have medical degrees.
Even so, don't scoff at the power of an M.D.: Doctors tend to be the highest earners more broadly in the United States.
Sign up for the Payoff — your weekly crash course on how to live your best financial life.