Jeff Flake announces he'll retire in 2018: "Heaven help us" if we normalize Trump, he said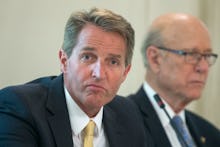 Sen. Jeff Flake (R-Ariz.), one of the most vulnerable senators up for re-election in 2018, announced on Tuesday that he will retire when his term expires, citing President Donald Trump and the political climate Trump's created as the reason for his decision.
"There are times when we must risk our careers in favor of our principles," Flake said in an impassioned speech on the Senate floor announcing his retirement. "Now is such a time."
In the speech announcing his retirement, Flake — a frequent Trump critic — warned against normalizing Trump's behavior, specifically citing Trump's tweets and insults aimed at his adversaries.
"None of these appalling features of our current politics should ever be regarded as normal," Flake said of Trump. "We must never allow ourselves to lapse into thinking that that is just the way things are now. If we simply become inured to this condition, thinking that it is just politics as usual, then heaven help us."
Flake — who is facing a primary challenge from the right — had earlier told the Arizona Republic that he decided not to run because he refuses to take policy positions that current Republican primary voters require.
"Here's the bottom line: The path that I would have to travel to get the Republican nomination is a path I'm not willing to take, and that I can't in good conscience take," Flake told the Arizona Republic. "It would require me to believe in positions I don't hold on such issues as trade and immigration and it would require me to condone behavior that I cannot condone."
Flake's announcement comes after he published a book earlier this year criticizing Trump and the Republican Party that paved the way for his election.
That book and his criticism of Trump have caused his poll numbers to plummet, making his re-election chances look slim.
He is unpopular among the base, after criticizing Trump and the voters who elected him in a book he published earlier this year.
Flake is also unpopular with Democratic voters, as he has voted to repeal and replace the Affordable Care Act, also known as Obamacare.
Ultimately, the line was too difficult for Flake to tow, and he decided to retire.
"There may not be a place for a Republican like me in the current Republican climate or the current Republican Party," Flake told Arizona Republic.
For now, it's unclear how Flake's retirement will impact the 2018 election.
Former State Sen. Kelli Ward — an outspoken conservative — is currently running for the GOP nomination. However more Republicans are likely to enter the race now that Flake has decided not to run.
Oct. 24, 2017 3:31 p.m.: This article has been updated.