Court orders Trump officials to allow detained undocumented teen to have an abortion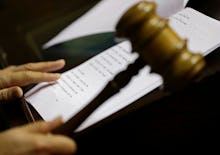 In a reversal to a previous ruling, a Washington appeals court ordered Trump officials on Tuesday to allow an unaccompanied, undocumented 17-year-old to obtain an abortion in Texas, where she is being detained.
The girl, referred to as "Jane Doe" to protect her privacy, had complied with Texas law and obtained a judicial waiver allowing her to terminate her pregnancy, but officials with the Office of Refugee Resettlement had refused to transport her. She had crossed the U.S.-Mexico border in early September, according to the American Civil Liberties Union.
"Every step of the way, the Trump administration has shown their true colors in this case," Brigitte Amiri, senior staff attorney with the ACLU Reproductive Freedom Project that is representing Jane Doe, said in a statement Tuesday. "It's clear that their anti-woman, anti-abortion, anti-immigration agenda is unchecked by the basic decency or even the bounds of the law."
Texas bans abortions after 20 weeks, and Jane Doe is said to be 15 weeks along in her pregnancy. The teen girl, who lawyers said crossed into the U.S. in early September, learned of her pregnancy once she was in custody and requested an abortion.
Attorneys with the Department of Justice argued the government had an interest only in "trying to promote the fetal health ... and life of the child" and in providing basic care, not elective procedures such as abortions. The Trump administration had repeatedly denied the teenager's request to be taken to an appropriate clinic for the procedure.
On Friday evening, a three-judge panel ruled that Jane Doe could obtain her abortion — but only once she found a sponsor. ACLU attorneys maintained this would further delay the girl's ability to end her pregnancy.
Tuesday afternoon, attorneys with the ACLU had filed emergency papers to obtain the court's new order giving a date by which Trump officials must comply.