Anthony Bourdain on not supporting women in restaurants more: "I see this as a personal failing"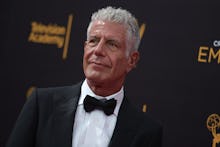 Anthony Bourdain wants to talk about sexual harassment. In the wake of the allegations against Harvey Weinstein — who allegedly raped Anthony Bourdain's girlfriend, actress Asia Argento, and harassed dozens of other women — the celebrity chef has openly supported the victims who have come forward. He's also blasted other high-profile personas — like late-night host James Corden — for cracking jokes on the scandal.
After the Times-Picayune published an exposé on the New Orleans star chef John Besh, co-owner of Besh Restaurant Group, Friday, Bourdain spoke with Slate about whether his persona encouraged a culture of toxic masculinity.
"Because of the Weinstein case, I'm starting to hear personal stories from a lot of women," Bourdain told Slate.
He continued.
"But I had to ask myself, particularly given some things that I'm hearing, and the people I'm hearing them about: Why was I not the sort of person, or why was I not seen as the sort of person, that these women could feel comfortable confiding in? I see this as a personal failing."
In the interview, Bourdain suggested that his book Kitchen Confidential, which he admitted sexualized food and included lots of references to drugs and partying, could have endorsed a bro culture.
"I've had to ask myself, and I have been for some time, 'To what extent in that book did I provide validation to meatheads?'" he said.
Bourdain has previously condemned bro-ish culture: In an interview with Mic in May, the TV personality said he hopes he hasn't encouraged people to assign genders to certain foods — like consider whiskey exclusively a man's drink.
"If I'm in any way responsible or seen as supportive of 'bro cuisine' I mean, it makes me just want to hang myself in the shower thinking about it," he said.
He's not the only one to ask why others in the restaurant industry have remained silent on the Besh allegations. New York Times restaurant critic Pete Wells noted that two days after the story broke, industry leaders weren't speaking up.
Toronto restauranteur Jen Agg has also called on industry leaders to join the conversation about assault in restaurants.
When asked to comment on the allegations of harassment, the James Beard Foundation, whose mission is to celebrate and honor chefs and industry leaders, directed Mic to a perfunctory statement on its website.
"The James Beard Foundation is deeply troubled by allegations of sexual misconduct in the restaurant industry. We would like to direct anyone who is experiencing harassment or other misconduct to ROC-United, a resource for workers," the statement read.
Condemning sexual harassment is an important first step for JBF and Bourdain, but it hardly seems enough. Here's hoping the restaurant community digests the news and can offer victims of harassment more than apologies.