Trump says he's a "victim" after report that DNC, Clinton campaign partly funded Russia dossier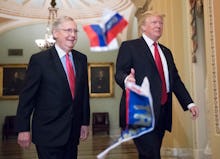 President Donald Trump said he is a "victim," after the Washington Post reported late Tuesday that the Democratic National Committee and Hillary Clinton's campaign paid for some of the research that led to the controversial dossier alleging his campaign coordinated with Russia during the election.
"Clinton campaign and DNC paid for research that led to the anti-Trump Fake News Dossier. The victim here is the president," Trump, who currently occupies the White House after winning the presidential election, tweeted Wednesday morning.
According to the Washington Post's report, the DNC and Clinton campaign hired Fusion GPS to fund the research, which led to the infamous dossier.
Funding opposition research is neither illegal nor out of the ordinary. A still-unknown Republican donor first retained the same firm during the Republican primary. The DNC and the Clinton campaign picked up the research in April 2016, once it became clear Trump would be the GOP nominee.
Fusion GPS went on to hire former British spy Christopher Steele, who wrote the dossier.
The dossier alleges that Russia had been "supporting and assisting Trump for at least five years" as part of its attempt to sow chaos in Western democracies.
Trump has denied the allegations in the dossier, calling it "discredited"
But some of the dossier's claims have reportedly been verified by the FBI.
Other more embarrassing claims from the dossier, including that allegedly Trump hired Russian sex workers to urinate on a bed that former President Barack Obama once slept in, have yet to be confirmed.