The 2 issues that matter most to Trump voters — and how they drove Flake from the Senate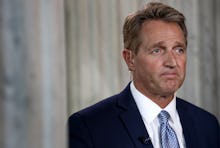 Welcome to Mic's daily read on Donald Trump's America. Want to receive this as a daily email in your inbox? Subscribe here.
Every day, we bring you a different dispatch on Trump's America. Today's focus: immigration and trade.
Wednesday's dispatch: What matters to Republicans
As Sen. Jeff Flake (R-Ariz.) offered a stinging critique of President Donald Trump from the Senate floor on Tuesday, he cited two policy areas that he could not square with his conscience.
Speaking of seeking re-election to the Senate, Flake said, "It would require me to believe in positions I don't hold on such issues as trade and immigration, and it would require me to condone behavior that I cannot condone."
The first-term senator from Arizona subsequently said he would not run for re-election — joining Sen. Bob Corker (R-Tenn.) to become the second GOP Senate incumbent up for re-election in 2018 to drop out following a public feud with President Donald Trump.
Flake's moves were likely at least somewhat motivated by the fact he was trending toward losing the Senate Republican primary. He wrote a book that trashed Trump's approach to politics and has continued to see his approval ratings plummet.
But Flake's mentions of trade and immigration, especially given that he represents a border state, show how the Republican Party and its core voters have changed under Trump's leadership.
Eric Beach, chairman of the Great America Alliance, told Mic in September he was backing Flake's then-primary opponent because she would crack down on immigration and tighten global trade relationships. Those issues resonated heavily with voters in the 2016 election, especially in the primaries, when Trump used threats of a "Muslim ban" and ending the North American Free Trade Agreement to surge past his opponents.
Flake is pro-immigration and pro-free trade. And he may not be the only casualty of these views among voters. Steve Bannon and Beach's super PAC are seeking primary opponents to Republican senators across the country. They scored an early win with Roy Moore's victory over the GOP senator in Alabama who was backed by Sen. Mitch McConnell .
And here is the most important thing to remember: Republican senators applauded Trump when he visited with them Tuesday on Capitol Hill. As the GOP looks for a way to pass tax reform, the vast majority of House and Senate Republicans are looking to work with Trump — and not attack him publicly.
For his part, Trump bashed both Corker and Flake on Wednesday morning.
For now, Corker and Flake are at the fringe of the GOP, as 80% of Republican voters still approve of Trump. Things may change, depending on whether tax reform is passed or Moore loses to a Democrat in deep-red Alabama in December, but Trump remains president and his critics are exiting the Senate one by one.
Today's question, a tough one: John McCain, George W. Bush, Bob Corker, Jeff Flake: In the past week, all these high-profile conservatives have blasted Trumpism. Why does it seem they're not winning the argument with the Republican base?
Please email us your thoughts at trumpsamerica@mic.com.
Wednesday in Trump's America:
Must-read from Mic's Andrew Joyce: Behind the DNC infighting, there's a deeper battle for the future of the party. "This was an opportunity for real unity through reform, and I'm afraid they're blowing it up," said James Zogby, who was kicked off a top party committee last week. A new poll found a majority of Democrats want the party to become more progressive, with a whopping 69% of millennials wanting a more liberal party.
The House is investigating the Obama-era uranium deal with Russia that is blowing up in conservative media circles. Here's a breakdown of the facts and what we know about the deal.
Wednesday morning, Democrats from the House and Senate will renew their call for passage of the Dream Act. That effort remains stalled by the GOP focus on tax reform and demanding increased border security funds in exchange for Dream Act passage. House Speaker Paul Ryan indicated on Tuesday he would make a deal in December to protect DACA recipients.
Kid Rock: "Fuck no, I'm not running for Senate." That clears that up.
The Senate rolled back a rule that kept banks from requiring customers to surrender their right to sue in order to open accounts, Reuters reported. Democrats called the GOP-backed move a giveaway to Wall Street.
Remember the Russian dossier? Turns out, the Hillary Clinton campaign and Democratic National Committee helped to pay for its research, according to the Washington Post. Quoting Fox News, Trump said on Twitter, "the victim here is the president."
In the wake of the Harvey Weinstein allegations, hundreds of lawmakers have come forward to say sexual harassment and assault is pervasive in the halls of power too, the Associated Press reported.
A court has ordered the Trump administration to allow an undocumented teenager to have an abortion.
Trump finally cut a promised check of $25,000 to the father of a slain U.S. soldier.
Today's MicBite:
Mic breaks down how white supremacists no longer wear hoods. They're hiding in plain sight. Here are four uniforms of racists in America. Tap or click the video below to watch.