Scott Brown admits he was investigated for comments he made to women on a visit to Samoa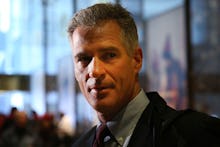 Former Republican Senator Scott Brown revealed on Wednesday that he was investigated for inappropriate comments made on a trip to Samoa in his official capacity as the United States ambassador to New Zealand.
Speaking to a New Zealand outlet on Wednesday, Brown said that there had been an "administrative inquiry" into comments he made to guests and a female server at a July Peace Corps event in Samoa.
He reportedly told some of the guests they looked "beautiful" and told a woman who was serving food and drinks at the event that she could make hundreds of dollars working in the U.S.
Brown confirmed that his comments, and the resulting complaints, were the subject of an official inquiry by the State Department — but chalked the incident up to cultural misunderstanding.
"We walked in and everyone was dressed to the nines," Brown said, speaking alongside his wife, Gail Huff, about the Peace Corps event in July.
"They all looked great, Gail looked great, you know I was dressed up and Gail and I both walked in and said, 'You guys are beautiful, you look really handsome, sir, you guys are great,' and apparently somebody took offense to that."
Brown said that the official inquiry had resulted in a warning that he should be more culturally sensitive. "I was told that, 'You know, listen you're not Scott Brown from Ryan, New Hampshire, any more, you're an ambassador and you have to be culturally aware of different cultures and different sensitivities,' and I'm always welcoming that kind of advice," Brown said.
Brown also suggested the complaints were politically motivated, saying, "at this event there were a lot of people that didn't like [President Donald Trump]. Sadly it's politics and it is what it is."
Brown, a former Massachusetts senator, was chosen by Trump to serve as U.S. Ambassador to New Zealand, a position that also requires Brown to serve as envoy to the independent state of Samoa, the New York Times reported on Wednesday.
In the interview, Brown said that he was eager to be upfront about the complaints about his comments in July, saying that his response to learning about the complaints had been: "Great, let's get it out in the open. My integrity and reputation is paramount. I hold my head very high and still sleep really well at night."