Best countries 2017-2018: These 35 nations have the most valuable passports on earth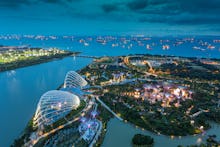 Pop quiz: Residents of which country get the best deal when it comes to globe trotting? Would you have guessed Singapore? Citizens of this sovereign city-state can hop the world's borders with the greatest ease, according to Arton Capital, a consultancy that tracks passport mobility and publishes a dynamic power ranking based on how many countries one can travel to without needing to apply for a visa.
Rounding out the top four nations were Germany, then Sweden and South Korea, which tied (many passports confer similar benefits). It's the first time in the ranking's history that an Asian country has held the top spot, according to a statement from Arton managing director Philippe May: "It is a testament of Singapore's inclusive diplomatic relations and effective foreign policy."
Now, Arton is not the only organization that ranks passports in terms of citizen benefits. In March, the organization Nomad Capitalist published a similar ranking of global passports that also took additional factors into account, like how overseas earnings are taxed and the country's surveillance laws.
Sweden topped Nomad's ranking, despite heavy taxes, because it's still relatively easy for Swedish expats to declare income elsewhere, said Nomad Capitalist founder Andrew Henderson in a video about the findings. "Not too many people are getting into fights with the Swedes," he said.
As for the United States? The U.S. came in at sixth place on the Arton list — alongside Malaysia, Ireland, and Canada. Here's the full list of the best 35 nations:
11. Estonia
Why did the United States fare so poorly? Arton said in its statement that since President Donald Trump took office, some countries, including Turkey and the Central African Republic, have moved to revoke the U.S.'s visa-free status.
In early October, Turkey became one of the latest countries to take measures to restrict some American travel. According to a Washington Post report, this has all but halted travel to the country. Conversely, Paraguay waived visa restrictions for travelers from Singapore, which helped it ascend to the top of the list on its own for the first time.
"While Singapore quietly climbed the ranks, the U.S. passport has fallen down since Trump took office," the statement said.
Even if you're a bit of a homebody, Singapore is a pretty great place to live. According to the CIA's World Factbook, it boasts the seventh-highest per capita GDP in the world, at $87,900. The United States, by contrast, has a per capita GDP of $57,400.
And what are the best places to live — beyond the issue of passport mobility? A recent United Nations report about the happiest countries in the world — which looked at factors such as life expectancy and social mobility — actually also ranked Singapore high, tied as fifth-best country in the world (the highest rank of any, besides Australia, outside of Western Europe).
But the absolute best country to live in, according to the United Nations ranking, is actually Norway.
That's thanks to its high — if not top — rankings in income, life expectancy, and average educational attainment. Norway was followed by Australia, Switzerland, Germany, and Denmark. And, of course, there's one other country you might consider, if you're thinking of a move...
Sign up for the Payoff — your weekly crash course on how to live your best financial life.