Maryland becomes the latest state to make it illegal to protest Israel's occupation of Palestine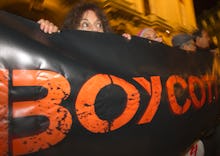 Another state has taken action to try and crack down on protests against Israel's occupation of Palestine.
On Monday, Maryland Gov. Larry Hogan signed an executive order that prohibits any contractor or subcontractor from working with the state if they boycott Israel.
The move came after a similar measure failed to gain support in the state legislature.
"Despite these clear warnings about the Orwellian and unconstitutional nature of such laws, Maryland governor Larry Hogan decided to take matters into his own hands and pass by fiat an anti-[boycott, divestment and sanctions] executive order that failed to get through the Maryland State Legislature," Yousef Munayyer, the executive director of the United States Campaign for Palestinian Rights, said in an email.
The BDS movement aims to end the Israeli occupation of Palestine by boycotting Israeli products, divesting from investments in the Israel and supporting international sanctions against the Israeli state.
"Political boycotts are constitutionally permitted — and First Amendment protected — forms of expression," Munayyer said. "Orders and laws, such as the one enacted today in Maryland, authorized the state to effectively discriminate against contractors based on this constitutionally protected expression."
Rahul Saksena, a staff attorney for the group Palestine Legal echoed that sentiment in an email statement, arguing the measure "undermines our right to dissent at a time when we need it most."
The order is just the latest in a series of state-level measures, backed by pro-Israel lobbying groups, that deny citizens and businesses the right to protest the occupation.
Last week it was discovered that the town of Dickinson, Texas, had been forcing recipients of relief grants for Hurricane Harvey to legally certify that they do not and would not boycott the state of Israel before they could receive funds. The measure appeared to be an attempt to comply with the state of Texas's prohibition on boycotting Israel.
In Kansas, the ACLU is currently suing the state over its anti-BDS law on behalf of a math teacher who was kicked out of a state teaching program for supporting her Mennonite church's protest against Israel's occupation.
And in June, New York Gov. Andrew Cuomo signed an executive action similar to the one in Maryland that prohibits state funds from anyone who does not vow support for Israel.
Maryland's executive order goes a step further than previous actions by referring to Israel and occupied Palestine as "Israel and its territories." Other similar legislation typically refers to the region as Israel and "the territories it controls" in recognition of the U.S.'s and broader international community's commitment to a two-state solution in the region.
The distinction is significant as it illustrates the potential pitfalls of states engaging in delicate foreign policy issues typically reserved for the federal government.
Passing legally binding measures with language that is at odds with official U.S. policy in the region could have significant ramifications in future peace negotiations.
Yet the movement to stop protests against Israel continues to play out at the state level, with most of the constitutional and foreign policy implications still yet to be fully understood.