CBO: Obamacare stabilization bill opposed by Trump would reduce the deficit by $3.8 billion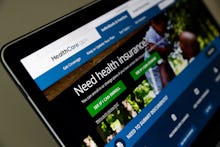 A bipartisan bill intended to stabilize the individual health care marketplace created by the Affordable Care Act would reduce the deficit by $3.8 billion over the next 10 years, according to an analysis published Wednesday by the nonpartisan Congressional Budget Office.
"Implementing the legislation would reduce the deficit by $3.8 billion over the 2018 to 2027 period," the CBO report says, adding that "the legislation would not substantially change the number of people with health insurance coverage."
The bill, drafted by Sens. Lamar Alexander (R-Tenn.) and Patty Murray (D-Wash.) and co-sponsored by a handful of other Republican and Democratic senators, would fund the cost-sharing reduction subsidy payments to insurers that President Donald Trump refused to pay.
The bill would also increase funding for outreach to enroll people into the individual health care marketplace, and would make it easier for states to receive waivers from ACA regulations.
Insurance companies blame Trump's refusal to pay the cost-sharing reduction subsidies for the increased cost of insurance premiums for Americans.
And even Republicans who oppose the ACA, better known as Obamacare, say the Alexander-Murray stabilization bill is necessary to help alleviate those cost increases.
"Much more needs to be done to help Georgians who have been hurt by Obamacare," Sen. Johnny Isakson (R-Ga.), who backs the Alexander-Murray plan, said in a statement. "But we cannot and should not make perfect the enemy of the good when millions of families are about to face little or no access to affordable health care."
Trump, however, doesn't support the proposal.
"We've said all along that we want something that just doesn't bail out the insurance companies but actually provides relief for all Americans. And this bill doesn't address that fact," White House spokeswoman Sarah Sanders said in an Oct. 18 press briefing.