Debra Messing is "on firework woke"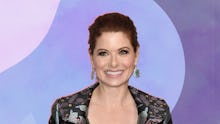 The character Grace Adler may no longer be woke — by her own admission — but Debra Messing, the actress who's been playing the role on and off since Will & Grace premiered in 1998, is confirming that, unlike her TV counterpart, she remains woke.
"Hell yes, Debra Messing is more than woke. I'm on firework woke," Messing said at an event she was hosting for CoolSculpting. "I speak my mind, for better or for worse. I am very outspoken and very involved in daily dialogues about the changes that are happening in our country."
She's not kidding. Since Trump's inauguration, Messing has used her platform to speak out. "All we have to do is to not be armchair activists," she told the Hollywood Reporter in January while preparing to head to the Women's March, pink pussy hat on her head. She used her GLAAD acceptance speech in May to challenge Ivanka Trump, as "one Jewish mother to another," to do something for women's issues. Earlier in October, Messing was part of Jennifer Lopez's Puerto Rico Relief Telethon, helping to raise $9 million for those affected by Hurricane Maria. She's even gotten into Twitter squabbles with Susan Sarandon and Blake Shelton with politics as the catalyst.
Below, Messing talks Will & Grace, surgical stigmas and her role as a woman — a famous one at that — living in the Trump administration.
Mic: Celebrities and cosmetic procedures are synonymous terms, yet so few talk openly about it, much less represent the brand.
Debra Messing: I was so grateful for the technology because I didn't feel comfortable going under the knife and I wasn't in a position, as a single mom who works full time, to take time off to recover from a procedure. To all of a sudden hear that there's technology that is totally noninvasive and safe and there's no recovery time, it just felt miraculous. I wanted to share this information because it does a disservice to women and men alike to pretend that there are human beings walking around Hollywood or down the runways of fashion shows that are born perfect. It's dangerous, especially for young girls, to be sold that fable. And to be able to stand up and say, 'You know what? I had a baby. I had this little pooch on my stomach that would not go away and I'm sorry, I don't have four hours a day to go to the gym — and that's not a way that I want to spend my time.' And finally there's something that can take care of that in 30 minutes.
From women like Jane Fonda to castmembers on The Real Housewives, cosmetic surgery is becoming less and less stigmatized for women. Do you feel it is the same for men?
DM: Obviously there are a plethora in Hollywood who have done things as they've aged. I think for some reason there is some stigma attached to a man paying and taking the time to beautify themselves. I think there is something considered unmanly about that or unseemly. And why we don't make that same judgment for women, I do not know. It would be incredibly empowering and responsible for men who are in the public eye, who are revered by young guys, to say, 'You know what? Yeah, I wasn't born this way.'
What was your initial reaction to seeing the term "woke" pop up in a Will & Grace episode?
DM: I read it and I screamed. I was so excited that the writers wrote that terminology into the script. It thrills me that we are being true to the show that we always were. It was always built into the DNA of the show that we would comment on what's happening right now today in America — in pop culture and in politics. Obviously the landscape is completely different than it was 11 years ago and there are different issues that are being discussed or that are being challenged, but we're still doing the same thing: We're talking about it and making people laugh at the same time.
A recent episode of the revival tackled the fraught issue of gay conversion therapy — an antiquated practice our vice president condones.
DM: It would feel horrible to shy away from doing that for fear of pushback just because we're pushing against something that's different than what we were pushing against 11 years ago. It's incredibly important to shine a light on hypocrisy in our culture, to shine a line and say, 'This is being said right now by politicians in our country.' To bring it up in a way that is palatable for people to at least consider entering into a dialogue. You know, conversion therapy is not an easy thing to talk about and a lot of people don't understand where it's come from. Our vice president, for instance, his position on it, he is all for it even though it's illegal. So to be able to have this hilarious episode with Jane Lynch and Andrew Rannells and then to have our vice president's picture on the wall — it's giving information that's very clever. It makes me very proud.