Report: Trump ally wanted Assange to help them obtain Clinton emails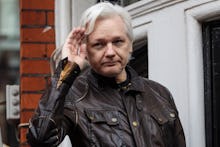 The data chief of the Trump campaign reached out to Julian Assange in 2016 in an attempt to obtain Hillary Clinton's deleted emails, the WikiLeaks founder confirmed Wednesday.
According to the Daily Beast, Alexander Nix, CEO of the data firm Cambridge Analytica, told a third party that he offered to team up with Assange to find the trove of 33,000 missing Clinton emails.
WikiLeaks "rejected" the offer, Assange told the site.
Still, the report provides yet another attempted link between Trump's associates and Assange, whose organization has been described by CIA director Mike Pompeo as a "non-state hostile intelligence service often abetted by state actors like Russia."
Here's why this matters
This is an important development for a few reasons.
Cambridge Analytica — the data firm that worked for Trump's campaign — has been a target of investigators looking into potential collusion between the campaign and the Kremlin.
Partly owned by the influential Mercer family, it has been suspected of potentially helping Russian hackers spread misinformation during the 2016 campaign.
In a September interview with Mic, Clinton herself suggested that Cambridge Analytica may have aided the Kremlin in its election interference.
"I think this is a worthy area of exploration," Clinton said.
The news about Nix's attempted partnership with Assange adds to questions about the firm's 2016 election activities.
It also raises significant questions about the Trump campaign's relationship to Assange, who published damaging information on Clinton and Democrats during the 2016 race but has declined to publish leaked information on the Russian government.
During the campaign, Trump praised Assange, proclaiming, "I love WikiLeaks!" during an October 2016 rally.
He also tweeted information from the organization repeatedly during the campaign, often in a laudatory manner.
"WikiLeaks catches Crooked in the act — again," he tweeted following on October 2016 leak.
Then, in January, he publicly sided with Assange over his own intelligence community in his claim that Russia was not behind the hack of the Democratic National Committee's emails.
Former adviser Roger Stone — one of Trump's top allies — boasted in August 2016 that he had been in contact with Assange and seemed to suggest some coordination between WikiLeaks and the campaign.
"I actually have communicated with Assange," Stone said in a meeting with Republicans. "I believe the next tranche of his documents pertain to the Clinton Foundation but there's no telling what the October surprise may be."
In March, Stone also tweeted — then deleted — a profane, misogynistic tweet in which he claimed to have a "back channel" with Assange.
In July 2017, Assange claimed that Donald Trump Jr. released emails regarding his infamous meeting with a Kremlin-connected lawyer in 2016 after he urged him to do so.
The Daily Beast's report Wednesday gives further weight to questions about the relationship between Assange and those in Trump's orbit.
The Trump campaign is being investigated by the FBI and three Congressional panels as part of its wide-ranging probe into Russian election interference. And, as Vox has documented, WikiLeaks has long been linked to the Kremlin — despite Assange's denials.
"He's a tool of Russian intelligence," Clinton said of Assange on Oct. 16. "If he's such a ... martyr of free speech, why doesn't WikiLeaks ever publish anything coming out of Russia?"