'Black Panther' costume designer Ruth E. Carter on injecting African culture into the film's fashion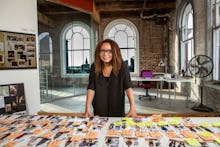 Ruth E. Carter has made a career of honoring black history through fashion. As the costume designer on films like Malcolm X, Selma, Do the Right Thing, Amistad and this year's Marshall, the biopic centering on Thurgood Marshall, Carter has become the go-to person in her field for re-creating pivotal moments in black history and recalling people fighting for progress.
So it only feels right that Carter is the costume designer on the groundbreaking Black Panther movie, the first Marvel superhero movie with a black lead and mostly black cast, which includes Chadwick Boseman, Lupita Nyong'o, Michael B. Jordan, Forest Whitaker, Angela Bassett, Sterling K. Brown and Letitia Wright. With the film still months away from release, the two-time Oscar nominee has made her imprint of the film clear.
The costumes are rich and regal, with nods to African tribes like the Maasai, and actually quite futuristic too. This balance was no accident, according to Carter.
"The first dress inspirations came from the illustrations in the comics," Carter said in an interview. "Everybody had an interpretation of the Black Panther story. Then I used my imagination."
With years of telling stories through costume, Carter went to a number of different places. First, the story itself is set in a place called Wakanda, which is technologically advanced. "I needed to find a way that I could represent the African diaspora and have the technology infused in the clothes in a clever way, in a regal way, in a royal way because [the Black Panther] is the king of Wakanda and everyone directly associated is royalty," Carter said.
To achieve this balance, Carter was inspired by high fashion.
"For Ramonda, the queen [played by Angela Bassett], we were inspired by modern fashion, some of the fashion designers that are really way out there like Gareth Pugh and Rick Owens and we looked at some of the shapes they had in fashion," Carter said. "We didn't want it to be futuristic, per say, but there's something really regal about some of these shapes."
Then Carter veered her attention to Africa.
"I looked at a lot of traditional, ancient African people in different regions," Carter said. "The Masai tribe, and what they looked like, their ancient costumes. A lot of it has a futuristic edge. So with the aid of 3-D printing, we were able to take ancient African tribal costumes, combine them with 3-D printing and create something inspired by but also unique to Wakanda."
Everything from the colors to the beadwork to the jewelry in the film can be traced back to African tribes.
"I looked at the Himba tribe with that red clay," Carter said. "I saw exactly what that color looks like and I could use that color in the work that I was doing."
Given how many of Carter's own films are based in history, with real people as inspiration, outfitting this Marvel film was a completely new experience for her.
"I had never done a Marvel film, a superhero film, so I didn't quite know what to expect," Carter said. "I was hired because I could bring some intellect and creativity to the table, and they supported me 150%. It costs a lot of money to do costumes for a film like this. It killed me. I worked 'round the clock, because I had costumes being made in Korea. And then I had shoppers that were going to Nairobi and South Africa. I had a shopper in Uganda."
The end result though has really been worth it for Carter. The costumes — and there are so many of them — each vibrate as tiny love letters to Africa.
"This is the new African diaspora," Carter said. "This is the new way of showing that Africa has a voice and it has a culture that's very relatable. There was a time when no one wanted to relate to Africa, and its beauty was never expressed in a way that was of today and the future. It was always a way to express militancy or protest. And I feel like now it's a celebration of life and color and culture and artistry."
"Black Panther really highlights that movement," Carter continued. "It's a reawakening of a new school of thought. It's like, 'Hey, wake up.' This isn't just about a dashiki. I can show you neck rings in all their glory and carved wooden armor in a way that's for protection and all kinds of stuff. It's a new day."
Looking back at her many films, what Carter hopes she's ultimately remembered for as a costume designer is someone who cared about black culture, which is evident in the Black Panther costumes themselves.
"I would like to be remembered as someone who cared about the images of black America," Carter said. "And cared enough to not only present [black America] as authentically as possible, but wanted to present them in their laughter in their pain, in their joy and in their struggle."