25 top-paying jobs you can do part-time — or from home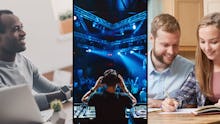 Paychecks don't go nearly as far as they used to. Since the early 1970s, U.S. wages have grown a measly 0.2% per year, a recent study found. Prices, meanwhile, have risen closer to 3% a year, according to the Consumer Price Index — all while Americans work longer hours than ever and increasingly crave flexibility and balance.
Thankfully, a nine-to-five job is also far from the only way of making a decent living in 2017. One clue that this is the case is that in the last year alone, incomes for households headed by people aged 15 to 24 grew three times as quickly as for any other age group, according to a new census report.
The reason? Younger people's wages are growing, officials said, because it's gotten so much easier for people without traditional qualifications to line up extra income thanks to startups, apps, and other arrangements. Airbnb hosts, for example, make close to an average of $1,000 a month renting out spare rooms, according to one survey from the lending startup Earnest.
Don't have room to rent — nor think picking up a side hustle is the life for you? You might alternatively consider swapping your morning commute for an extra hour at home by working remotely, another non-traditional work arrangement that's on the rise, according to Gallup.
To help you find the best jobs that earn high income but offer flexibility, we combined two recent rankings: 10 of the highest-paying remote jobs, via FlexJobs, with another list of 15 top-paying side hustles, from Money. To keep annualized versus hourly pay figures consistent, we used the U.S. Office of Personnel Management's "2,087-hour divisor," to convert the wages. Here are all the best 25 jobs, ranked by pay.
Highest paying part-time jobs or side gigs
You can make big bucks without committing all your time to one job. Here are a few gigs that make that possible.
15. Phlebotomist
Hourly rate: $14.80
Phlebotomists draw blood, and have one of the only jobs on Money's ranking that requires an advanced certification, but the number of available jobs in the next 10 years is expected to grow 24%, according to the Bureau of Labor Statistics, much faster than the average.
14. Property manager
Hourly rate: $15.50
Property managers are usually in charge of managing rental properties for a landlord, a process that includes finding and vetting tenants and then collecting their rent.
13. School bus driver
Hourly rate: $16.90
School bus drivers are another profession with growing demand, though your state will likely require special certifications, as well as experience operating a commercial vehicle.
12. Postal service mail carrier
Hourly rate: $17.60
Postal service workers can make good income, but there are qualifications: Carriers, for example, must pass a 90-minute assessment called Exam 473.
11. Tutor
Hourly rate: $20.10
Tutors make an average of $20 per hour, and can make a lot more depending on which subjects they master. Highest-end tutors can even make up to $1,250 an hour, according to one CNBC report.
10. Handyman
Hourly rate: $21.60
Good with tools? Handymen can make nearly $22 an hour, but typically need to get an additional license, depending on which state they work in.
9. Dance teacher
Hourly rate: $22.00
If you want to teach in a school, you'll need special certifications in order to become a dance teacher. But to make money teaching a class in a recreational center or a gym, you need only have a background in dance.
8. Personal trainer
Hourly rate: $23.10
Personal trainer jobs are also in high demand, with employment expected to increase by 10% between 2016 and 2026. You can get accredited to become a personal trainer in a process that usually takes about three to four months, according to the American Council on Exercise.
7. Interpreter
Hourly rate: $25.50
You don't actually need any special qualifications to become an interpreter, besides speaking multiple languages. Demand for interpreters is also expected to grow much faster than average, according to the BLS.
6. Pilates instructor
Hourly rate: $26.30
Abs of steel? Pilates instructing pays more than personal training, but reputable accrediting programs typically require up to 500 hours of training.
5. Piano teacher
Hourly rate: $31.20
Piano teachers obviously need to be talented musicians, but to get certified they also need to take courses in curriculum design and continue ongoing education for themselves.
4. Makeup artist
Hourly rate: $34.00
Because it can take a while to build up enough clients to make it as a makeup artist full time, people in the industry recommend starting with weekends and identifying a special niche, whether it's weddings or the theater.
3. Photographer
Hourly rate: $36.20
Becoming a photographer is competitive and requires investing in expensive equipment, but it's also a pretty high-paying gig for something that will let you follow your passion.
2. Musician or singer
Hourly rate: $43.40
Caveat: Becoming a musician or singer may pay well on an hourly basis, but you almost certainly won't be paid for all that band practice.
1. Disc jockey
Hourly rate: $65.70
Becoming a DJ also requires investing upfront in your equipment — you'll need at least a turntable to avoid having awkward gaps between your songs. Luckily, you should be able to buy some important equipment used.
Highest paying remote jobs
If you don't want to be chained to one desk at an office, these professions offer greater flexibility, letting you move around — and some can even be done from your laptop in bed.
10. Registered nurse
Hourly rate: $28.75 ($60,000 annually)
Registered nurses don't always work in hospitals; some work more remotely as home care aids or other specialized fields — a nice bonus if you end up getting to work closer to home.
9. Product designer
Hourly rate: $33.54 ($70,000 annually)
Product designers typically work in the technology industry and help design the look and feel of software products. To become a product designer, you'll need a solid mix of research, data and design skills.
8. Research molecular biologist
Hourly rate: $36.90 ($77,000 annually)
You can get entry-level jobs in a biology lab with simply a bachelor's degree, but to move up the ladder you will likely need some advanced education and published work. Luckily, biologists with the right credentials can sometimes find work contributing to research projects that can be done remotely.
7. Digital marketing analyst
Hourly rate: $38.33 ($80,000 annually)
Digital marketing involves keeping track of a business's online footprint by overseeing a brands' email, search engine and social media presence.
6. Senior business analyst
Hourly rate: $43.12 ($90,000 annually)
Business analyst jobs can vary a lot from industry to industry, and the best jobs will usually require an advanced degree of some kind, like an MBA.
5. Utilization manager
Hourly rate: $44.08 ($92,000 annually)
There's no single definition for the job, but it generally involves helping business in the health care industry manage their resources.
4. Project manager
Hourly rate: $50.31 ($105,000 annually)
Project managers often find they have a natural talent for organization and working with people, the Balance writes. If you're serious about the field, there are also special certifications you can get through organizations like Project Management Institute.
3. Qualitative user experience researcher
Hourly rate: $57.50 ($120,000 annually)
User experience research, UX for short, is a relatively new field that involves working alongside product designers to identify ways to make software easier for people to use.
2. Senior systems engineer
Hourly rate: $71.87 ($150,000 annually)
Senior systems engineers are fairly advanced in their careers, and are usually in charge of helping safeguard a company's data. To be a senior systems engineer, you'll need a mix of coding and project management skills, but the median salary is more than $100,000 per year.
1. Senior iOS developer
Hourly rate: $76.66 ($160,000 annually)
Senior iOS developers are software developers who specialize in the types of coding required to build Apple products. It's a job you'll have to work up to, but once you reach this level you'll be making well into a six-figure salary.
Sign up for the Payoff — your weekly crash course on how to live your best financial life.