San Juan mayor: Whitefish Energy contract "should be voided right away"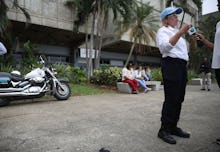 When it comes to Puerto Rico's $300 million contract with Whitefish Energy — the small Montana firm hired to help rebuild the island's decimated electrical grid — San Juan Mayor Carmen Yulín Cruz has joined the growing chorus of people who say the deal smells fishy.
The Puerto Rico Power Authority's decision to offer a contract to the tiny company, which had only two full-time employees on its payroll when Hurricane Maria struck last month, is "alarming," Cruz told Yahoo News in an interview published Wednesday. Cruz added the deal "should be voided right away and a proper process which is clear, transparent, legal, moral and ethical should take place."
"It seems like what the Puerto Rican people are going to be paying for, or the American people are going to be paying for, is an intermediary that doesn't know what is at stake here and that really has to subcontract everything," she said. "What we need is somebody that can get the job done and that has the expertise to get the job done."
The decision to rely on the tiny firm to restore power to Puerto Rico's 3.8 million residents instead of utilizing mutual aid arrangements with other utilities has raised eyebrows, particularly over Whitefish's connections to Interior Secretary Ryan Zinke. As the Washington Post previously reported, Zinke himself hails from the town of Whitefish, Montana, and has a son who "worked a summer job" at one of the energy firm's construction sites.
In an interview with NBC earlier this month, Whitefish Energy CEO Andy Techmanski confirmed that he'd been in touch with Zinke to discuss logistical issues — a statement that contradicts a Zinke spokesperson's recent statement that "neither the secretary nor anyone in his office have taken any meetings or action on behalf of this company."
According to Aaron Weiss, media director for Western Priorities, an ethics and policy watchdog for the Department of the Interior, the Whitefish Energy contract "raises serious questions."
"Secretary Zinke has a history of bad judgment calls: his ongoing fundraising for 'scam PACs,' his refusal to fulfill basic public records requests and his repeated use of taxpayer money for personal and political travel," Weiss told Mic via email. "Given all that, and limited facts we know so far about the Whitefish Energy situation, it's appropriate for investigators to look carefully at this contract."
On Wednesday, the Associated Press reported that Arizona Rep. Raul Grijalva, senior Democrat on the House Natural Resources Committee, had called for an official investigation into the $300 million deal.
"Congress needs to understand why the Whitefish contract was awarded and whether other, more cost-effective options were available," Grijalva said.
Puerto Rico Gov. Ricardo Rosselló has defended the contract in a statement, claiming that the decision had been based on Whitefish's ability to not require cash up-front.
"Of all those who met the requirements and aggressive schedules to bring brigades, one was asking for a substantial amount of money — which PREPA had no liquidity for — and another did not require it," he said. "That other one is Whitefish."