The GOP nominee in the Virginia governor's race is running race-baiting ads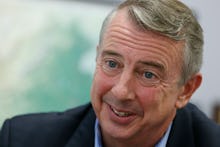 Calls to preserve Confederate statues. Disseminating racially charged images of Hispanic gang members. Accusing a political opponent of restoring rights to violent criminals.
These aren't messages from an extremist candidate.
They're in ads from Virginia Republican gubernatorial nominee Ed Gillespie, a moderate Republican who has worked for traditional Republicans such as former President George W. Bush and 2012 GOP presidential nominee Mitt Romney.
Gillespie's ads have grown increasingly incendiary as Election Day draws near.
His stance on Confederate statues — a major issue in Virginia after the violent white supremacist rally in Charlottesville over the summer — has morphed in recent weeks.
Gillespie first ran an ad in early October calling the campaign to remove the statues a distraction, saying leaders should instead focus on creating jobs.
However on Wednesday, roughly two weeks out from the election, Gillespie released another ad saying his Democratic opponent, Ralph Northam, "will take our statues down."
"I'm for keeping 'em up, and he's for taking 'em down and that's a big difference in November," Gillespie says in the ad, referencing Confederate monuments.
Gillespie also ran ads seeking to tie Northam to the MS-13 gang violence, running images of tattooed inmates to say that Northam wants to let criminal gang members back on the street.
Former President Barack Obama waded into the race, calling Gillespie's ads "cynical" and "corrosive" and accusing Gillespie of running from the "same old playbook" of fearmongering campaigns.
"What he's really trying to deliver is fear," Obama said of Gillespie at a rally for Northam on Thursday. "What he really believes is if you scare enough voters, you might score just enough votes to win an election. And that's what makes this kind of anything goes politics just so damaging and corrosive to our democracy. It's just as cynical as politics gets."
Northam has responded in kind, sending out a mailer tying Gillespie to Trump and the tiki torch wielding white nationalists in Charlottesville whom Trump suggested were "very fine people."
Northam holds a nearly 6-point lead over Gillespie, according to the RealClearPolitics average.
Election analysts say the race leans Democratic.