U by Uniworld Review: A trip on the first-ever river cruise designed for millennials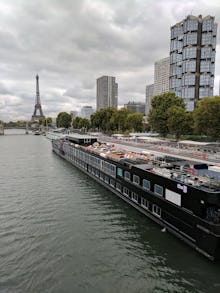 Cruises don't exactly have a great reputation among young travelers. Common stereotypes — cruises are for older people, they're boring, the food isn't great — may have been true way back when. As a multibillion-dollar industry that moved more than 24 million passengers in 2016, cruise brands aren't suffering from a lack of business. But given that millennials travel more than any other generation, these mega companies are reworking their strategies to capture their interest early on.
Some attempts have been successful, like Royal Caribbean's recent solar eclipse cruise, which attracted a range of travelers by bringing Bonnie Tyler and DNCE on board. Others have faltered, such as Fathom's voluntourism cruises, which Carnival ended after less than a year. Los Angeles-based river cruise company Uniworld is betting bigger by launching a brand dedicated solely to millennials — it's only for those between the ages of 21 and 45. Mic was a guest on U by Uniworld's inaugural sailing, with the first consumer trip scheduled for April 2018.
River cruising makes sense for young travelers. It's an easy way to see multiple cities on one trip — most ports are in the middle of cities and much more conveniently located than airports — and U by Uniworld offers itineraries that visit up to 10 places in eight days. The travel itself is efficient, too, as the sailing often takes place at night. In fact, Uniworld adjusted these itineraries to depart even later so travelers can take advantage of the nightlife. And there's plenty of freedom when the ship is docked: You can take a bike and explore the city on your own or head off on a guided tour through Versailles, France, which can be overwhelming for first-time visitors.
For those looking to meet new people, the ship's small size means you'll get to know your fellow passengers quickly, whether on group excursions, during meals or at evening events. And then there are the meals, an often-maligned part of traditional cruises because so much of the food is frozen and brought on board at the beginning of the trip. The biggest benefits of stopping at a port every day? Daily fresh produce. Finally, the all-inclusive price makes it cost efficient, especially for a group consisting of people with varying dietary needs, interests and budgets.
"We believe this is a W or Soho House on the water," Brett Tollman, CEO of Uniworld's parent company, the Travel Corporation, said in an interview. "The river is obviously the same, but we've changed everything else."
Many of the changes on U by Uniworld make river cruising even more attractive to young travelers. Wi-Fi, one of those must-have amenities for inducing travel envy, is included in the price. The service fluctuates based on where the ship is, but there's a thoughtful map that shows the signal strength along the route. There are also personal routers available to rent for 8 euros a day (roughly $9) — useful if you're off the ship and don't have an international data plan, or even when you're onboard but the Wi-FI just isn't strong enough that day.
The ship is notably eco-conscious and paper-free: Menus are displayed on television screens in the restaurant, itineraries appear on screens throughout the ship and there's a group WhatsApp chat for the ship that shares important updates and itinerary changes. The group chat allows for quick communication when schedules shift, such as earlier or later departures.
Mic broke down the design, the activities and food to figure out what elements of this new cruise model worked best — and whether it's all worth the price.
The design
The company redesigned two existing, older ships, the River Ambassador and the River Baroness. The design, led by Toni Tollman and Brian Brennan, has a black-and-white scheme for the sake of simplicity, Uniworld CEO Ellen Bettridge said in an interview. She said the entire project went from concept to product in less than a year.
That doesn't mean it was an easy process. To stand out among the many other river cruises sailing the Seine, the Danube, the Main and the Rhine, Uniworld painted its two new ships, now named the A and the B, matte black. The color scheme goes throughout the ship, from the sleek lobby decor, striped loungers on the deck and tiled bar floor to the carpeting in the restaurant.
The rooms
The 61 rooms (including four suites and two bunked bedrooms that sleep three) are spacious enough, especially considering how little time you spend in them. As with most ship cabins, there isn't enough floor space to keep your luggage open for the entire trip. Uniworld conveniently provides tons of storage space in the room for both your clothes and your suitcases.
For friends traveling together, there's an option to separate the queen-sized bed into two twin-sized ones. USB plugs are by the bed, and the room includes Bluetooth speakers. The feature is nice, but the walls are thin: You can quite easily hear the music in adjoining rooms, which is fine if your neighbor has good taste in music, but less so if they're keeping the party going in their room while you're trying to sleep.
The activities
On our first day in Paris, a thrilling treasure hunt through the Louvre got our competitive blood flowing. Activities make a cruise, and U by Uniworld's seem thoughtful and varied.
Before the actual cruise, U by Uniworld sends passengers an itinerary. Each passenger can list their choices in order of preference or opt out altogether (all excursions are included in the price of the cruise). More importantly, the companion helps travelers figure out what to pack and gives a sneak peek at the adventure to come.
Options for the inaugural cruise, which traveled the Seine from Paris to Rouen, France, and the Conflans-Sainte-Honorine commune, included a climb up the Eiffel Tower, the aforementioned Louvre treasure hunt and kayaking along the Eure river, a tributary of the Seine. Whenever possible, the itinerary excelled at providing an insider look that felt exclusive, like a tour of rooms at Versailles not open to the public or seeing Paris through its rooftops.
Part of the fun of being in a new city is seeing what the nightlife is like. Instead of sailing during the dinnertime, the schedule was adjusted to allow passengers to go out (and stay out) late on organized bar crawls or visit popular pubs. Impressively, the on-ship evening events were equally well-planned. Many encapsulated that adult summer camp feeling, including a pajama party and a silent disco, where guests wore headphones and could switch between three different DJ channels.
The food
Traditionally, large cruise ships have set meal times, assigned seatings and long, drawn-out meals. U by Uniworld has just two meals a day: a buffet-style brunch that goes from 10 a.m. to 1 p.m. and a three-course dinner that emphasizes platters for sharing (and less waste), soup and a few protein choices. There are plenty of accommodations for vegetarians and vegans, and the brunch buffet includes lighter options like salads, juices and plenty of fruit.
At 7:30 a.m. every day, U by Uniworld sets out simple breakfast foods for early risers: croissants, yogurt and coffee. It's not quite enough fuel if you have an active day planned, such as the three-hour kayak ride we did one morning, but it's a nice touch.
The pricing and routes
There are four different eight-day itineraries, starting from $1,699 per person — which works out to about $212 a day. While there might be an initial sticker shock, the price is actually quite reasonable, considering food, non-alcoholic drinks, lodging and activities. And you still feel pampered (there's daily housekeeping), without having to worry about gratuities, which are also included in the price. Alcoholic drinks cost extra, but they're well priced: 4.50 euros (roughly $5.25) for draft beer and spirits starting at 6 euros (roughly $7) — and there will be happy hour deals as well.
The B will sail round trip from Paris along the Seine, with visits to towns in Normandy and plenty of time to fully enjoy the city of lights (Mic did an abridged version of this trip). The other ship, the A, has itineraries that include a food and a beer-centric tour from Amsterdam to Frankfurt; and Germany trip with quirky gems like the castle that inspired Snow White and the Medieval Crime and Justice Museum. For those strapped for vacation time, five-day trips are available during the holidays, which highlight Europe's incredible Christmas markets, light shows and New Year's Eve celebrations.
No matter what ship you're on, don't overlook the photo booth, which is tucked into a corner of the lobby and easy to miss. We didn't spot it until our last day, when a line started forming to capture those final memories. After all, what's a millennial cruise without a souvenir to Instagram?