Is the Uber credit card a good deal? Here are the key pros and cons.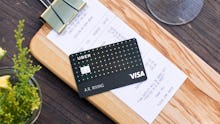 Uber, in a partnership with Visa and Barclays, on Wednesday unveiled its new credit card, designed to lure in a generation of consumers leery of using plastic — but who drop big bucks on travel, online shopping and dining out.
The rewards certainly aren't bad: Cardholders will get 4% cash back on dining purchases (including UberEats, naturally); 3% cash back on hotel and airfare; 2% cash back on all online purchases, including from Uber; and 1% cash back on everything else. The card has no annual fee nor foreign transaction fees.
"We do not usually see such generous rewards on credit cards outside of the premium space," Kim Palmer, writer and credit card expert for NerdWallet, said in a phone interview with Mic. "Four percent on dining is really unusual. There's also a $50 credit on subscriptions, so for people who are really into things like Amazon Prime and Spotify, it's notable."
The Uber credit card's perks are similar to those of high-end travel cards offered by American Express and Chase: The Chase Sapphire Reserve, for example, provides triple points on travel and dining; the Platinum card from American Express offers 5% cash back on airfare, though you can't book flights through aggregate websites like Expedia.
The major difference from Uber's new card is that both the Chase and the Amex cards charge high annual fees, $450 and $550, respectively. Those fees are defrayed by signup bonuses and other perks, but you still need to spend a lot of money — at least $7,000 annually on the Chase Sapphire Reserve — to make either of those cards pay off.
Uber's credit card could yield similar, if smaller, benefits to people who don't have that much cash to drop on trips and eating out. So, what's the catch?
Without its generous cash back on dining, the card would be a lot less differentiated from other offerings, Palmer said. And standout perks also sometimes get scaled back once a credit card has had a chance to lure in customers, a sentiment echoed by MagnifyMoney's Nick Clements.
"The key will be how long 4% unlimited rewards on restaurants will last," Clements said in an email interview. "Outsized rewards have a tendency to get cut over time."
In the meantime, Clements said Uber's offering will likely be one of the "most lucrative" cards for people who frequently dine out.
One important final downside? Given that Uber already knows a fair bit about your comings and goings, handing over data about everything you like to eat and buy amounts to sharing an "almost Amazonian" level of personal information with the controversial company, a point writer Jonathan Shieber noted at TechCrunch.
If you're thinking of getting a new credit card, first check out Mic's latest guide to finding the best card for you — travel, cash-back or otherwise.
Sign up for the Payoff — your weekly crash course on how to live your best financial life.