These musicians have had sexual misconduct allegations brought against them post-Weinstein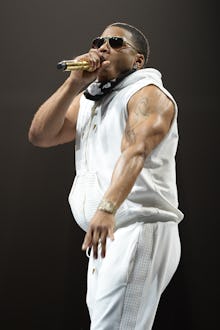 In the weeks since the New York Times and the New Yorker reported on the sexual abuse and harassment allegations against Harvey Weinstein, there's been a veritable avalanche of accusations against men in a host of different industries: politics, media, fashion, film and music. In the latter category, we've heard about new allegations against big-name artists like R. Kelly and Nelly, as well as claims involving indie-rock guitarists and hip-hop producers whose names are likely only recognizable to diehard fans. Some of these men have admitted to wrongdoing, some have stayed silent, others have either issued denials or apologies without copping to their alleged actions.
To get a sense of the scope of this issue, we've rounded up the latest sexual misconduct allegations that have popped up in the music industry following the Weinstein scandal.
R. Kelly
The R&B star's reputation as an alleged predator of young women is well known, and in 2017, new reports surfaced of Kelly keeping young women in a veritable cult after journalist Jim DeRogatis — who, back in 2002, initially reported on the infamous "urination tape" allegedly involving Kelly performing lewd acts with an underage girl — spoke with the families of the women. Most recently, DJ Kitti Jones alleged to Rolling Stone that, as one of Kelly's cadre of girlfriends, she was beaten, forced to have sex with other women and starved.
She also claimed that Kelly controlled every aspect of her life, including her wardrobe and ability to communicate with anyone outside his circle. She said she considered killing herself, but then surreptitiously made arrangements to visit her son and never went back. Kelly's representatives responded to the allegations by saying that the relationship was "consensual" and that "any claim of wrongdoing of any kind or of mistreatment of any woman by him is false, ill-motived and defamatory." Kelly is set to perform a trio of arena shows in November.
Nelly
The St. Louis rapper was arrested in Washington on Oct. 4 when a woman called 911 in the early morning hours, claiming he'd raped her on his tour bus. The accuser dropped her case almost immediately because, according to her attorney, "She believes the system is going to fail her." Nelly has not been charged with any crime.
Twiggy Ramirez
In an Oct. 20 Facebook post, Jessicka Addams of the band Jack Off Jill alleged that she was raped and beaten by her former boyfriend, Jeordie White — a.k.a. Twiggy Ramirez, the longtime bassist in Marilyn Manson's band. Addams wrote that she has "lived with the overwhelming shame and guilt of being raped for well over 20 years," and then described a lengthy pattern of emotional and physical abuse while the two were in a relationship.
Addams shared the details of her alleged sexual assault, writing that White "forced me on to the floor with his hand around my neck. I said NO. I said NO. I said it so loud enough, that [my roommate] Pete came rushing in from the other room to get him off of me. But I had been raped. I had been raped by somebody I thought I loved." In the same post, Addams explained that she stayed quiet about the incidents for years because she'd been told that her band would potentially be blackballed in the industry if she spoke out. Manson fired Ramirez on Tuesday.
Ducktails' Matt Mondanile
New Jersey indie-rock band Real Estate announced in 2016 that founding member Matt Mondanile was leaving the group to pursue his solo career as Ducktails. But it recently came to light that his bandmates fired him for alleged inappropriate sexual conduct with multiple women, such as groping them while they slept. He initially denied any wrongdoing, then later said in a statement issued through his lawyers, "I am endlessly sorry for my inappropriate behavior. I took advantage of my position as a musician, though I never intended to hurt anyone emotionally or otherwise. I've been an insensitive creep and again I apologize to everyone and anyone who was affected by this."
The same statement went on to say that Mondanile and the other Real Estate members signed a separation agreement that included a non-disparagement clause, and that the band violated the terms of said agreement to "protect the band's commercial viability." Several Ducktails shows in the U.S. and abroad have been canceled in the wake of the allegations.
Alex Calder
The Canadian singer-songwriter was set to release his second solo album on Oct. 20, but then his label, Brooklyn-based Captured Tracks, revealed they were dropping him and shelving the record after "an allegation of sexual assault." In a Facebook post, he admitted the incident took place in 2008, apologized to the anonymous accuser and announced he was canceling all of his upcoming shows and seeking counseling, while also sharing a link to a Planned Parenthood article on consent.
Crystal Castles' Ethan Kath
The Canadian electro-punk duo originally formed by singer Alice Glass and musician Ethan Kath seemed like it was defunct when Glass suddenly and mysteriously announced in 2014 that she was quitting the band. On Tuesday, she released a statement alleging that she left because Kath (whose real name is actually Claudio Palmieri), repeatedly raped her, and physically and mentally abused her beginning in 2006, when she was around 15 years old. Kath refuted the claims, saying, "Her story is pure fiction and I am consulting my lawyers as to my legal options."
The Gaslamp Killer
On Oct. 12, hip-hop producer and DJ the Gaslamp Killer was accused on Twitter by a woman named Chelsea, who withheld her last name, of drugging and raping her and her best friend in 2013. The artist, whose real name is William Bensussen, responded in his own statement on Twitter that the encounter was consensual, but in several statements, both women insist they were too incapacitated to consent to anything, and that the drinks he gave them were their first of the day. Chelsea told Pitchfork that she's not sure about pressing any charges. Bensussen has been dropped from the Low End Theory, a popular weekly club show that he and several other DJs put on in Los Angeles.