This 'Stranger Things' tool uses AI to make custom art just for you — and it's a little creepy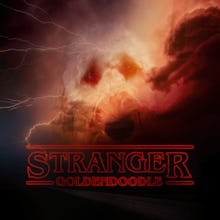 The Netflix show Stranger Things is all about government conspiracies and creepy, supernatural monsters who want to gobble you up. But a fun new Stranger Things-inspired web tool tackles something potentially creepier: artificial intelligence.
OK, it's truly not that creepy. It's actually pretty fun. The tool, called Even Stranger Things, uses AI to identify what's in a photograph and then converts it into a Stranger Things-style poster. Upload a picture of a cat and the site spits out an image that says "stranger cat," and so on.
Mic tested the tool by throwing a whole bunch of random photos at it. It struggled to identify some pretty basic things, like my hand, which it simply identified it as a finger.
But it managed to identify the breed of tech editor Alexis Kleinman's dog, Oliver.
It even managed to identify a pachimari plush from the video game Overwatch as a stuffed toy.
It's not clear exactly what AI Dave Arcus, the site's creator, used for Even Stranger Things, but it's probably something like Google's open-source AI that can caption a photo "with 94% accuracy." Tools like these have useful applications, but they have potentially nefarious uses, too. For example, Stanford University found that an AI could be used to identify whether a photograph's subject was gay or straight with up to 91% accuracy.
"If you can start profiling people based on their appearance, then identifying them and doing horrible things to them, that's really bad," Nick Rule, associate professor of psychology at the University of Toronto, said, according to the Guardian.
That's not a concern you need to have for Even Stranger Things, though. Arcus seems to just like making goofy web tools tied to pop culture phenomena. For example, he made a Breaking Bad tool that stylizes your name with elements from the periodic table and this horrifying tool that merges your face with your pet's.
The second season of Stranger Things releases on Netflix in its entirety on Oct. 27.