Jeff Sessions suggests DOJ will crack down on marijuana growers, even in states that legalized weed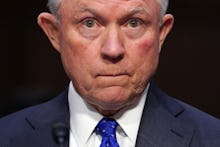 Attorney General Jeff Sessions suggested that the Department of Justice may crack down on marijuana growers, even in the 29 states that legalized the drug in some form.
Sessions made the comments on conservative radio host Hugh Hewitt's show Thursday morning, after Hewitt asked whether the Department of Justice would be prosecuting marijuana growers for being criminal enterprises.
"A lot of states are just simply breaking the law and a lot of money is being made and banked," Hewitt said to Sessions of marijuana growers and sellers. "One [Racketeer Influenced and Corrupt Organizations] prosecution of one producer and the banks that service them would shut this all down. Is such a prosecution going to happen?"
Sessions told Hewitt that he didn't think "one [RICO] prosecution would be quite as effective as that," but said he doesn't think states that legalized the drug had the right to ignore current federal laws that ban the sale of marijuana.
"I do not believe there's any argument that because a state legalizes marijuana, that the federal law against marijuana is no longer in existence," Sessions said. "I do believe that the federal laws clearly are in effect in all 50 states and we will do our best to enforce the laws as we're required to do so."
Federal laws currently classify marijuana as a Schedule I drug — the highest level given to illegal drugs and putting it in the same category as heroin and ecstasy.
Sessions agrees with that classification, and is against the legalization of weed.
"We need grown-ups in charge in Washington to say marijuana is not the kind of thing that ought to be legalized, it ought not to be minimized, that it's in fact a very real danger," Sessions said at a Senate hearing on recreational marijuana in April 2016.
Former White House press secretary Sean Spicer suggested back in February President Donald Trump's administration would be cracking down on recreational marijuana, however that's yet to happen during the first nine months of Trump's presidency.
Hewitt asked Sessions whether there are any prosecutions coming for marijuana growers and sellers.
"One prosecution that invokes a Supremacy Clause against one large dope manufacturing concern, and follows the money as it normally would in any drug operation and seizes it, would shut, would chill all of this," Hewitt told Sessions, referencing the Constitutional provision that says federal law trumps state law. "But I haven't seen one in nine months, yet. Is one coming?"
Sessions refused to answer.
"I can't comment on the existence of an investigation at this time, you know that, but I hear you," Sessions said with a laugh. "You're making a suggestion, I hear you."
Sessions' comments come as polls show historically high public approval for legalizing marijuana.
About two-thirds of Americans, or 64%, support legalizing the drug, according to a Gallup poll published Wednesday. More than half of Republicans, or 51%, also support marijuana legalization, according to Gallup's survey.