Rep. Frederica Wilson is getting death threats. This has become routine for Trump's Twitter targets.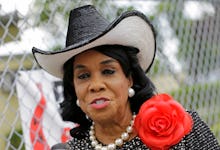 President Donald Trump's personal attacks have once again led to death threats.
Rep. Frederica Wilson (D-Fla.) is away from Capitol Hill due to threats resulting from the president's repeated Twitter attacks on her, the Miami Herald reported late Wednesday.
Wilson became the subject of Trump's ire after she went public with the details of a call he made to the pregnant widow of Sgt. La David T. Johnson. She said Trump told Myeshia Johnson her husband "knew what he signed up for" and struggled to remember the fallen soldier's name. Johnson has since confirmed Wilson's characterization of the condolence call, saying the president left her feeling "very upset and hurt."
But Trump has repeatedly attacked the representative over her account of the conversation, describing her as "wacky" in a series of tweets.
Chief of Staff John Kelly also lashed out at Wilson over her comments, calling her "selfish" and an "empty barrel."
According to the Herald, Wilson has been receiving racist death threats in the wake of the attacks and has been gone from Washington, D.C., for a week.
"She's home," Rep. Alcee Hastings (D-Fla.) told the paper. "I have not spoken with her about it, but I've heard that she's received substantial death threats and I think she is doing everything she can to ratchet down and let some of us, including me, take over."
When Trump attacks, threats often follow
Trump's personal attacks have led to violent threats from his supporters on a number of occasions.
He repeatedly singled out NBC News' Katy Tur on Twitter and at campaign events in 2015 and 2016, which the journalist wrote in a tell-all for Marie Claire led to an unrelenting "wave of insults, harassment, and threats" — many of which she said are "unprintable."
Chuck Jones — an Indiana union boss who disputed Trump's claim that he prevented more than 1,000 Carrier jobs from being outsourced — found himself the target of the then-president elect's online outrage in December, after which he also began receiving threats from Trump supporters.
Kathy Griffin — the comedian who held a faux-severed Trump head in a wildly controversial May photoshoot — said she received "specific" death threats over the images, particularly after Trump and members of his family called her out online.
He even singled out an 18-year-old girl who had challenged him on women's issues during a New Hampshire campaign event in 2015, taking to Twitter to call her an "arrogant young woman" who questioned him "in such a nasty fashion."
The college student later told the Washington Post that she had received a deluge of death and rape threats following the personal attack.
"I didn't really know what anyone was going to do," the student told the paper. "He was only going to tweet about it and that was it, but I didn't really know what his supporters were going to do, and that to me was the scariest part."
Of course, the media is one of Trump's favorite Twitter targets.
Amid Trump's constant jabs at CNN — including a tweet depicting himself body-slamming a person with the network's logo for a head — employees at the network said they and their families have received death threats from his supporters.
Journalist Megyn Kelly — the recipient of a number of vicious, misogynistic attacks from Trump during the presidential campaign — wrote in her memoir that his repeated attacks directly resulted in brutal death threats against her.
"Every time he tweeted about me, it was like he flipped a switch, instantly causing a flood of intense nastiness," Kelly wrote in Settle for More.
Wilson has reportedly faced a number of violent threats amid her feud with the president, including an alleged lynching threat from a suburban Chicago man.
"Need 10 good men to help carry out a lynching. Must have own horse and saddle. Rope will be provided," Tom Keevers, 54, of Des Plaines, Ill., reportedly wrote on Facebook. "This congresswomen [sic] is a disgusting pig. Someone should take their boot to her face."
Keevers has denied writing the post, alleging that someone made a "meme" falsely attributing the lynching threat to him.
He also said, however, that he "cannot remember" if he made a threat against Wilson and suggested it was possible that someone had made a meme out of words he wrote in an argument with others on Facebook.
Authorities are investigating the alleged incident.
As a result of the threats, Wilson has not voted since Congress departed for a weeklong break Oct. 12, according to the Herald. However, Hastings said Wilson will likely be back on Capitol Hill next week.