The Disney Channel will air its first queer storyline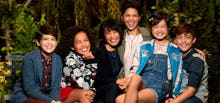 In a first-ever move for the Disney Channel, the upcoming season of its original show Andi Mack will feature a storyline centered around a queer character.
In the show's season two premiere, which airs Friday, main character Andi and her friend Cyrus, played by Joshua Rush, will realize they have a crush on the same boy, Variety reported Wednesday.
Later episodes in the season will further explore Cyrus' identity, his struggle to tell his girlfriend about his newfound feelings and the importance of his supportive friendships. In an Instagram post Wednesday, the 15-year-old Rush wrote that he was "so proud" to "bring Cyrus' groundbreaking storyline to life."
According to LGBTQ media advocacy organization GLAAD, which screened the episode in advance, this story arc — which will mark the first time a Disney Channel show has shown a gay character coming to understand their identity — is a crucial step toward better representation of LGBTQ communities, especially in programming for young people.
"With more and more young people coming out as LGBTQ, Andi Mack is reflecting the lives and lived experiences of so many LGBTQ youth around the country," Sarah Kate Ellis, president and CEO of GLAAD, said in a statement. "Television reflects the real-life world, and today that includes LGBTQ youth who deserve to see their lives depicted on their favorite shows. Disney has been a leader in LGBTQ inclusion and there are so many young people who will be excited to see Cyrus' story unfold."
According to GLAAD's 2016 "Where We Are on TV" report, LGBTQ people still make up just a small percentage of characters on primetime television. Of 895 series regular characters expected to appear on primetime television in 2017, just 43 were identified as gay, lesbian, bisexual, transgender or queer.