More than 2 months after declaring an opioid crisis, Trump appears to have decided how to proceed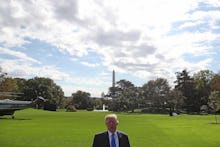 Welcome to Mic's daily read on Donald Trump's America. Want to receive this as a daily email in your inbox? Subscribe here.
Every day, we bring you a different dispatch on Trump's America. Today's focus: Opioid deja vu.
Thursday's Dispatch: More than two months later, action on the opioid crisis
Thursday's presidential press conference will be a prime example of how Donald Trump runs the federal government.
More than two months after Trump declared the opioid crisis "a national emergency," as of last week, the government had still not formally declared a national emergency. That designation would send additional federal funds to hospitals, addiction clinics and first responders dealing with the historic rate of opioid-driven drug overdoses in America.
Nearly two weeks ago, Mic asked the White House for an update on the emergency declaration. The Trump administration issued Mic the same statement that had been issued in August, saying the government was focused on opioids and already treating it like an emergency.
As with health care, tax reform and a host of other initiatives, Trump's rhetoric on opioids has been long detached from his administration's policy initiatives.
The president said last week that he would soon formally declare a national emergency over opioids. Now, reports indicate the president will declare the crisis a public health emergency — but stop short of the more sweeping declaration.
The public health emergency will do less than a more sweeping national emergency. It will have to be renewed every 90 days. It will not provide federal funding for addiction treatment centers with more than 16 beds, a key recommendation of Trump's own opioid commission.
"I think our general feeling is, that's a good step, but it's a temporary step and it's a transitional step," Jim Blumenstock, chief of health security for the Association of State and Territorial Health Officers, told USA Today. Trump's public health declaration is not expected to come with a further ask of money from Congress, which could designate funds to get more life-saving naloxone into the hands of first responders.
The cold reality: Nearly 65,000 people died of drug overdoses between February 2016 and February 2017, the most recent data available. That's more people than were killed in car accidents last year.
Watch for Trump's speech on the opioid crisis at 2 p.m. Eastern.
Thursday in Trump's America:
Establishment Republicans know they're fighting for their lives. After very public rebukes of Trump by Sens. Bob Corker (R-Tenn.) and Jeff Flake (R-Ariz.), the GOP is launching an assault on Steve Bannon to protect other Republican incumbents up for reelection next year, the Washington Post reported. Bannon and his wealthy allies are sensing the opportunity to pick off multiple Republican senators in a bid to drive the GOP to become more nationalist and isolationist.
The average premium increase of the most popular plans purchased on Obamacare's individual health care exchange will be 34% next year, a new study said. That's driven by instability in the marketplace created by Trump's decision to end subsidies to health insurers and general anxiety surrounding the Affordable Care Act's future.
And the bipartisan legislation that would stabilize the marketplace — which Trump opposes — would cut $3.8 billion from the deficit.
USA Today reported the new U.S. refugee admission program could block nearly half of the people seeking to come to the United States this year compared to last.
The Republican candidate running for governor in Virginia is running anti-immigrant ads as he aims to pull off an upset in the gubernatorial race. Will it work? And Mic broke down how a new Democratic super PAC is trying to win back state legislatures — starting with a data-driven prototype in next month's Virginia election.
Why the Senate's late-night vote on an obscure financial regulation will make it harder for you to fight for your money back.
What to know about who Donald Trump may pick at the next chair of the Federal Reserve. (Bored by monetary policy? Give this a click.)
House Republicans are barreling toward passage of a budget that would pave the way for tax reform — and $1.5 trillion in tax cuts. The Senate passed it last week.
Sometime today, the National Archives will post thousands of documents related to the John F. Kennedy murder investigation. Continually update this webpage.
Shortly after being slammed by a hurricane, Puerto Rico signed a $300 million contract with a two-person energy company based in the Montana hometown of Interior Secretary Ryan Zinke. Now, San Juan's mayor said the contract should be voided — and Whitefish Energy apologized for feuding with her.
"I'm a very intelligent person." Trump said journalists are making him out to be "more uncivil" than he actually is.
Today's MicBite:
The feud that has consumed the last few weeks: Trump vs. Corker, a history. Tap or click below to watch.