Sabina Karlsson on curve and plus-size models in makeup campaigns: "I'm shocked it took this long"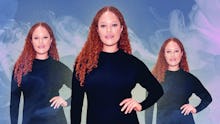 Model Sabina Karlsson has a look that's unforgettable. With tight curls of ravishing red hair, a face speckled with freckles and a gap-toothed grin, Karlsson has been hard to miss walking at fashion shows like Chromat, Michael Kors and Christian Siriano, and in campaigns too, for the likes of J.Crew and Lane Bryant.
The success she's experienced recently as a curve model comes after years and years of Karlsson figuring out who she really wanted to be as a model. Since she was 4 years old growing up in Sweden, Karlsson has found herself in front of the camera — but her path to success surprisingly started with Karlsson modeling as a straight-sized model in her teens and early 20s.
"As a child model, I didn't have anyone pushing me to be skinny because I just had to look happy and look like a child," Karlsson said. "But then when I turned 17, that's when my journey to always be on a diet and working out began. I was working hard on my body, trying to keep the weight off and then by 2010 I couldn't do it anymore. It was affecting my social life. It was affecting me, and I love food. I was unbalanced."
She started to reel herself back from straight-sized modeling, and looked to curve modeling as an escape. "I was ready to do something else," Karlsson said. "I knew that I wanted to model, but I knew I couldn't do it as a straight-sized model anymore."
When she made the switch to curve modeling in 2010, models like Karlsson weren't exactly in demand. She landed just one major gig during her first few years — a 2011 Levi's campaign in which she posed alongside star models Ashley Graham and Marquita Pring.
Starting in 2014 though, plus-size and curve models were appearing in more and more magazines and campaigns, and as a result, Karlsson started to get work again. She got an editorial in i-D and in 2015 got her first Lane Bryant campaign, walked her first Chromat show and was featured in Vogue.
"In the beginning of me as a curve model, it was still fairly new," Karlsson, who's currently signed to Jag Models, said. "The industry was changing. So at that time, clients were mainly using me as a kind of 'let's go crazy!' thing. You know, let's use that redhead girl with freckles. I wasn't that busy, and I took a year or two off, but by 2014 the industry had completely changed. The past three years have been the best years of my career."
Some of the highlights for her past three years include a cover of a special edition of Glamour magazine, features in Teen Vogue, more runway work, major Lane Bryant campaigns and even beauty campaigns, which were groundbreaking at the time.
In 2016, Milk Makeup brought Karlsson in as their new face, and she became one of the very first (if not the first) curve models to appear in a beauty campaign.
"That was just so surreal," Karlsson. "I'm shocked it took this long. It's just so weird. That really was the first time I had seen someone like me in a beauty campaign, and that was in 2016."
It's been a bit of a domino effect since then, with Maybelline and L'Oreal just recently bringing her into campaigns as well.
As for why it's taken so long for curve and plus-size models to be featured in beauty campaigns — makeup doesn't look any different on a plus-size woman, after all — Karlsson thinks that the beauty industry just needed the fashion industry to give its formal OK.
"I think maybe in the beginning we were doing e-comm, catalog work, and we weren't being seen in editorials or magazines," Karlsson said. "So when they started to use us for features in Glamour or Teen Vogue or Elle, they saw the potential. She's curvy and can definitely do beauty like duh, that's just one plus one. They started noticing that we could really bring something great."
After being a part of the fashion industry and all its progress these past three years, Karlsson only has hope for the future.
"I just want fashion to be going in the same direction that it is now," Karlsson said. "More inclusivity during fashion week. I should be walking more than three shows, all the girls too for that matter. I know that there's an audience and customers for it too. I'm very optimistic too, seeing more curvy models in the runways and on the screen too. It's not going to go backward."
With Karlsson still regularly popping up in campaigns and major magazine spreads, we'd have to agree.