Bill O'Reilly demands $5M for "defamatory" Facebook post claiming he asked for dirt on an accuser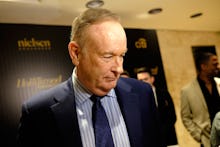 Former Fox News host Bill O'Reilly has commenced legal action against a New Jersey man for making a number of claims about O'Reilly's behavior in a Facebook post, including that O'Reilly once asked a Fox News staffer for compromising information about a woman who had accused him of sexual harassment.
Michael Panter, a businessperson and former member of New Jersey's General Assembly, posted on his Facebook page Tuesday making a number of claims about O'Reilly's treatment of Panter's ex-partner, who Panter said worked at Fox News. Among those claims were that his ex told him O'Reilly had asked her out at work, and that O'Reilly would call his ex-partner late at night.
In the post, Panter also alleged that O'Reilly called his ex-partner on the phone to request damaging information about another accuser right after a Fox News executive requested that she take a confidential phone call from O'Reilly.
In a summons to Panter, O'Reilly's attorneys said they are seeking no less than $5 million for damages because of the post, which O'Reilly says is defamatory and has inflicted permanent harm on his reputation.
"This action seeks redress for defendant Panter's intentional, malicious and bad faith actions in making defamatory and false statements in a publicly available social media post," the summons reads. "Plaintiff seeks damages for the public hatred, ridicule, disgrace and permanent harm to his professional and personal reputations as a result of defendant Panter's publication of knowingly false defamatory statements about plaintiff, which were made with actual malice, as well as defendant Panter's intentional infliction of emotional distress upon plaintiff."
In a phone interview with Mic Thursday, Panter said the alleged phone calls between his ex and O'Reilly occurred in the spring or summer of 2010. He declined to identify his ex, because he is not speaking on her behalf. Panter also declined to name her in his initial Facebook post, but said the employee later settled her own suit against O'Reilly.
"The first call came from a woman at Fox who I believe was the HEAD of HR (or Fox's chief corporate counsel)," Panter wrote in the post. "She stated that she had met with O'Reilly and Bill Shine, who was the co-president of Fox News. She said there was a sensitive matter that they wanted my ex to speak with O'Reilly about, confidentially."
"Sixty seconds later, O'Reilly was calling," Panter continued. "He explained that a new accuser was suing him for sexual harassment. This latest victim was someone my ex knew, and lived in the same complex. He got to the point immediately: Give me anything you have on this woman, which we 'can use against her.'"
"In essence, the leadership of Fox, including their 'HR' head/counsel and O'Reilly, who held my ex's career in their hands (and whom O'Reilly was also harassing) was demanding information to attack another victim," Panter wrote.
It's unclear which Fox News executive was being referred to in the post.
A spokesperson for Fox News did not respond to several requests for comment about the matter.
O'Reilly or Fox News's parent company, 21st Century Fox, have settled suits with at least six women over the years over allegations that O'Reilly harassed them. The New York Times reported on Saturday that Fox News renewed O'Reilly's contract with the network in early 2017 even after being informed of another sexual harassment settlement, which O'Reilly had reportedly settled for $32 million.
O'Reilly was ousted from the channel in April after the Times reported that he and the company had shelled out around $13 million to five other women who had accused him of harassment over the years.
O'Reilly has denied the allegations and has called them "politically and financially motivated." He has said that he has evidence to "expose the lies," and has said he will be exonerated.
In the phone interview with Mic Thursday, Panter said he was motivated to speak out because of O'Reilly's public comments in interviews.
"I felt like I had to say something," he said.
Panter did not immediately respond to requests for comment about the summons on Friday afternoon.