Anna Wintour doesn't want to invite Donald Trump to the Met Gala ever again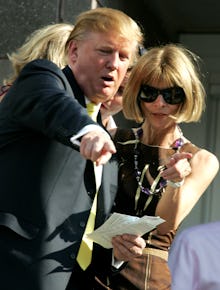 Good luck getting into the Met Gala ever again, Mr. President.
Donald Trump has attended the highly glamorous and fashionable evening at the Metropolitan Museum of Art for several years, sometimes with Melania Trump in tow. But during a gross little game on the Late Late Show with James Corden, Vogue editor-in-chief Anna Wintour revealed Trump is never going to go to his beloved gala ever again.
The game itself, called "Spill Your Guts or Fill Your Guts," is set up so each participant has to either answer a controversial question or eat a gross food.
Wintour was given these options: Take a bite of a pickled pig's foot or answer the following question posed by Corden: "Anna, you famously host the celebrated Met Gala that takes place in Manhattan each year. Celebrities from all walks of life are desperate to get a ticket. Everyone from Beyoncé to George Clooney attends. So my question is: Who would you never invite back to the Met Gala?"
After not a lot of internal deliberation, Wintour leaned forward, looked Corden in the eye and said: "Donald Trump."
And then Wintour laughed.
Kiss your ticket goodbye, dude.
Wintour hasn't been shy about her disdain for Trump and his administration. Vogue took sides for the first time in its history during the 2016 presidential election, formally endorsing Hillary Clinton. Wintour also wore a T-shirt printed with Clinton's face during a Marc Jacobs show and a pin supporting Planned Parenthood during New York Fashion Week.
Even Vogue itself seems to be taking deliberate jabs at Trump and everyone around him. First ladies have been prominently featured in the magazine for decades, since Herbert Hoover's wife Lou Henry Hoover in 1929. During her time as first lady, Michelle Obama landed on three covers. But for Melania Trump as first lady, a formal profile — let alone a cover — has been nowhere to be found, with Vogue instead focusing on writing profiles on political figures like Democratic Sen. Kirsten Gillibrand instead. The most Trump has gotten so far are recaps on her fashion choices — some of which have been critical.
With this little jab, consider Melania Trump's chances of getting her own Vogue cover very slim.
You can watch Wintour's entire exchange with Corden below: