An undocumented 10-year-old was detained by immigration officials after having emergency surgery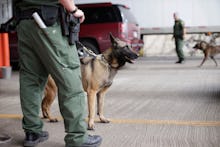 An undocumented child is in custody after Border Patrol Agents stopped the ambulance she was riding in Tuesday. Rosa Maria Hernandez, a 10-year-old with cerebral palsy, was being transferred from a medical center in Laredo, Texas, to a hospital in nearby Corpus Christi early Tuesday morning when agents stopped her ambulance, the New York Times reported on Wednesday.
She was allowed to continue on to Driscoll Children's Hospital where she underwent emergency gallbladder surgery — but immigration authorities followed her ambulance, and remained posted outside her hospital room.
By Wednesday evening, the Times reported, Hernandez had been discharged from the hospital, but instead of being released into the care of her parents or other family members who had offered to provide care, she was taken into custody.
As of Thursday morning, she was being held in a children's detention facility, Leticia Gonzalez, an attorney for the family, said in a phone call on Thursday, despite the fact that her doctor had the hospital had advised that Hernandez be released into the care of someone familiar with her medical needs.
Speaking through a translator on Thursday, Hernandez's mother, Felipa De La Cruz, told reporters on a call that she was "distraught" over the situation.
"It's difficult, when I start to think about her I start to get sad … I start to become desperate," De La Cruz said. She explained that she and her husband had come to the U.S. in 2007. "My husband and I thought that we could give them better opportunities in the U.S."
Their decision to come to the U.S. in 2007 was also related to their daughter's medical needs, De La Cruz said. According to Gonzalez, Hernandez "really has a mentality of a child who is closer to four or five years old."
De La Cruz said she had been able to video chat with her daughter and check in on her since she's been in custody. "I know she already wants to be home with me. She told me that she misses me."
Both of Hernandez's parents are undocumented — but her grandfather is a legal permanent resident of 45 years, and her cousin, Aurora Cantu, who accompanied her to the hospital is a U.S. citizen. Both relatives offered to take Hernandez home with them and care for her, Gonzalez said, but they were denied.
Gonzalez said it was a "sad day in America" that a child, "who doesn't understand what's taking place" and "who has family that's willing to take her in and comply with the deportation hearings" was being held in custody.
Speaking to reporters on Thursday, Rep. Joaquin Castro (D-Texas), said that it was "stunning" that federal agents "would be waiting outside the hospital room" to detain a 10-year-old child.
"They're treating her like hardened criminal," Castro said. "Rosa Maria is not a threat to anyone's safety."
As the Times reported on Wednesday, from the time that President Donald Trump took office and early September of this year, immigration arrests have risen more than 40% as compared with the same period last year.
"The administration's immigration policies are affecting families across Texas and across the nation," Castro said on Thursday. He called it "unacceptable" that a child with "serious medical needs" wasn't being released into the custody of her family.
"ICE has the discretion to release Rosa Maria at any time," he said. "We are asking that she be released to her family."