What Melania Trump wore her 40th week as first lady — the 2 times we saw her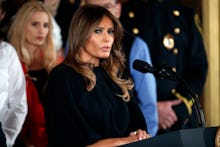 Melania Trump was all about the causes this week.
Starting on Monday, she met with middle schoolers in Michigan in an effort to draw attention to her anti-bullying platform. Then later in the week, at the White House, she gave a speech regarding the opioid crisis in the United States. For both of these appearances, she stuck to a few of her favorite fashion elements.
This is what she wore:
Monday, Oct. 23: A pink Valentino jacket for meeting with kids
For a visit to Michigan, where she visited a middle school while championing her anti-bullying platform and stopped by a police and fire department, Trump went with one of her favorite colors: pink.
The outfit that day was a bright pink jacket from Valentino with a grey ensemble underneath. The shoes, as you could predicted, were Louboutins.
Thursday, Oct. 26: A voluminous black dress for remarks at the White House
For a speech at the White House on Thursday, in which Trump spoke about the dangers of drug addiction in the United States, she wore a voluminous black dress tied at the waist by Martin Grant, a designer who was born in Australia and is now based in Paris.
Shortly after her speech, her husband formally declared the opioid epidemic a public health emergency.
You can see previous recaps of what Melania Trump wore here.