Advocates worry that Trump's latest refugee order is part of a piecemeal plan to ban Muslims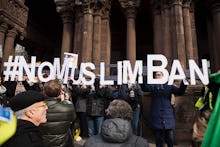 President Donald Trump appears to be following through with his campaign promise to institute "a total and complete shutdown" on Muslims entering the United States. And he's doing it one executive order at a time.
On Tuesday, Trump released the latest in a series of actions designed to crack down on people entering the country from several countries — the vast majority of which are nations with majority-Muslim populations.
The new order replaces Trump's previous 120-day suspension of the U.S. refugee program with new indefinite restrictions on refugee's entering from 11 countries — Egypt, Iran, Iraq, Libya, Mali, North Korea, Somalia, Sudan, the Republic of South Sudan, Syria, Yemen, as well as stateless Palestinians all of which except for North Korea and South Sudan have Muslim-majority populations. More than half of all refugees currently admitted to the U.S. come from those 11 countries.
Critics say the new measure is an attempt to further Trump's ongoing effort to prevent all Muslims and especially Muslim refugees from entering the United States.
"This is just a continuation of the administration's attempt to ban Muslims from coming to the United States whether it's through travel bans or through suspensions of the refugee program." Sirine Shebaya, senior staff attorney for Muslim Advocates, said. "It's definitely a Muslim ban by 1,000 cuts. It's trying every way that the administration possibly can to stop refugees from being here."
Other advocates echoed that sentiment. Jenny Yang, the vice president of advocacy and policy at the humanitarian organization World Relief, told the Washington Post, "It's the refugee ban all over again."
The new vetting restrictions are much tougher than those that are part of the U.S.' already notoriously tough vetting process. Under the new order, refugees applying to enter the U.S. must give addresses for every place they have lived longer than 30 days going back 10 years — a process that could be considerably challenging for those leading the peripatetic life of a displaced refugee.
The new requirements also mandate that refugees give current email and phone numbers for their extended family, including their parents, siblings, children, spouses, ex-spouses and parents of spouses.
Shebaya said that the latest order, along with other extreme vetting measures taken by the Trump administration and the previous travel ban, clearly show that the president is attempting every possible measure within his power to keep Muslims from entering the United States. She said two provisions in Trump's most-recent order were specifically targeted toward Muslims:
One is what Shebaya refers to as an effective 90-day continued suspension of the U.S. refugee program for any refugee from those 11 nations. The Trump administration has claimed it will order a "case-by-case" review of immigrants from those nations accepting only immigrants whose entry into the U.S. "deemed to be in the national interest" — a vague criterion with the potential to refuse the vast majority of applicants.
The second is the indefinite suspension of the "following-to-join" program, which helps connect the family and children of refugees currently in the United States to reunite with they're loved ones.
"This is not new, President Trump and his administration have been doing this since they tried to take office," Shebaya said. "But it's really important to understand this new order as an extension of the Muslim ban."