Democratic candidate for Va. Governor hits back at Trump: "Don't talk to me about showing up"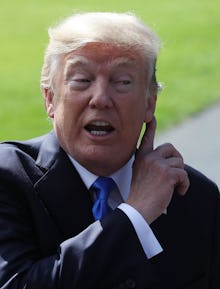 President Donald Trump has gone on the attack against Ralph Northam, the Democratic nominee in Virginia's upcoming gubernatorial election, charging Northam with being weak on crime and alleging that he "doesn't even show up to meetings/work."
Northam, an Army physician and Virginia's current lieutenant governor, is having none of it, responding to Trump in kind.
"I served 8 years in the Army, took care of sick kids, and am running to build a more inclusive Virginia," Northam replied to Trump on Twitter. "Don't talk to me about showing up."
Northam is locked in a competitive gubernatorial contest in the Old Dominion State, and has been attacked by Trump and the GOP nominee, Ed Gillespie, for being weak on crime and for trying to take down Confederate monuments in the state.
Gillespie has kept Trump at an arms distance in the race, not holding rallies with Trump in Virginia — where Trump's popularity is in the dumps at just 41% in the latest Fox News poll of the contest.
But Gillespie has adopted some of Trump's racially charged rhetoric, running race-baiting ads suggesting Northam is friendly toward "illegal immigrants" and Hispanic gang members, and saying Northam wants to erase Virginia's Confederate history.
Trump has also sent a handful of tweets supporting Gillespie's candidacy, saying Gillespie wants to save "our great statues/heritage" — referring to the monuments to Confederate leaders who revolted because they wanted to keep slavery legal.
Current Virginia Democratic Gov. Terry McAuliffe made light of that in a tweet sticking up for Northam.
"Speaking of not showing up, Ed Gillespie treats you like a communicable disease and you haven't shown up for the most important race of '17," McAuliffe tweeted.
And former President Barack Obama returned to the political fray to denounce Gillespie's campaign tactics, calling them "cynical" and "corrosive."
"What he's really trying to deliver is fear," Obama said of Gillespie at a rally for Northam last week. "What he really believes is if you scare enough voters, you might score just enough votes to win an election. And that's what makes this kind of 'anything goes' politics just so damaging and corrosive to our democracy. It's just as cynical as politics gets."
Northam currently leads polls in the state, according to the RealClearPolitics average, less than two weeks from Election Day.