Government Accountability Office will investigate Trump's voter fraud panel at senators' request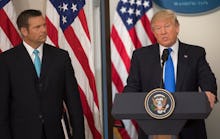 The Government Accountability Office has agreed to investigate President Donald Trump's election integrity panel, the nonpartisan watchdog said in a letter to Democratic senators Wednesday.
"[The] GAO accepts your request as work that is within the scope of its authority," the office wrote.
Sens. Michael Bennet (D-Colo.), Amy Klobuchar (D-Minn.) and Cory Booker (D-N.J.) sent a letter Oct. 18 to the GAO requesting a probe into the Presidential Advisory Commission on Election Integrity, which the senators suggested has "partisan motives."
"We fear the manner in which the PACEI is conducting its work will prevent the public from a full and transparent understanding of the commission's conclusions and unnecessarily diminish confidence in our democratic process," the Senate Democrats wrote.
Trump created the panel in May through executive order after making months of unsubstantiated claims that he lost the popular vote to rival Hillary Clinton because millions voted illegally in the 2016 election.
Vice President Mike Pence — who heads the panel with Kansas Secretary of State Kris Kobach — has defended the necessity of the committee as "bipartisan," saying in a statement the commission is designed to "protect and preserve the principle of one person, one vote because the integrity of the vote is the foundation of our democracy."
But Trump has explicitly described it as a "voter fraud panel," directly linking it to his previous allegations about illegal voting — something experts say is extremely rare.
GAO probe latest challenge to panel
The panel has been controversial since beginning its work in June.
Critics in both parties have said the commission is an unnecessary tool of voter suppression that could violate Americans' privacy. The panel has been the subject of lawsuits; at least 44 states have refused to comply with the PACEI's initial request for voter data.
The GAO investigation represents the latest challenge to the commission.
Bennet, Booker and Klobuchar asked the GAO to examine the panel's funding, methodology and its "efforts ... to address voter participation." The group also asked requested the GAO ensure the PACEI adheres to federal regulations and is protecting Americans' privacy in the information it collects.
The GAO said in its response Wednesday that it will begin the investigation in about five months.
In a series of tweets Thursday, Bennet called the the panel a "sham" and said its "lack of transparency is unacceptable."
"The commission's lack of transparency in dealing with members of Congress, its own commission members and the press exacerbates the overwhelming concern raised by both Republicans and Democrats regarding the commission's unprecedented request for sensitive voter data," Klobuchar said in a statement Thursday. "American voters have no way of knowing who has access to their voter information, what it is being used for or how it is being stored and protected.
"This is unacceptable."