Kellogg apologizes for racially insensitive drawing on back of Corn Pops cereal box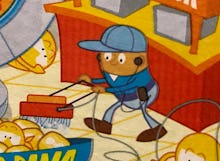 They're grrrrrrrr-racist!
After public outcry over a racially insensitive illustration on the backs of boxes of Corn Pops, cereal manufacturer Kellogg issued a statement on Twitter vowing to correct the offense.
"Kellogg is committed to diversity & inclusion," the company tweeted. "We did not intend to offend — we apologize. The artwork is updated & will be in stores soon."
The drawing in question: a seemingly innocent depiction of a happy little Corn Pop janitor going about his business.
Though the anthropomorphic Corn Pop janitor may seem innocuous, his skin tone is much darker than every other Corn Pop creature on the box, perpetuating offensive stereotypes about people of color and labor.
Here's what the Corn Pop janitor looks like in the context of every other Corn Pop on the box.
The issue was first highlighted by writer Saladin Ahmed, whose initial tweet containing the offensive artwork has since gone viral.
Some on Twitter echoed Ahmed's concerns.
Others thought Ahmed and his fellow detractors were being overly sensitive.
For his part, Ahmed praised Kellogg for vowing to rectify the error just hours after he tweeted the brand with his concern.
And while this cereal may have apologized for its racist misstep, milk, its partner-in-crime, remains at large.