In the wake of Harvey Weinstein, media outlets continue to grapple with their own bad actors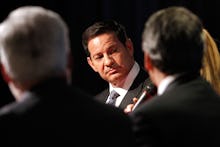 On Wednesday morning, MSNBC and NBC News announced that longtime political analyst Mark Halperin would be suspended from the network following a CNN report that revealed the reporter had allegedly sexually harassed at least five women during his time working for ABC News.
"We find the story and the allegations very troubling," an MSNBC spokesperson said in a statement. "Mark Halperin is leaving his role as a contributor until the questions around his past conduct are fully understood."
By Wednesday afternoon, HBO had also cut ties with Halperin, announcing it would no longer collaborate on a miniseries based on a book Halperin had cowritten with former cohost John Heilemann. Penguin Books has since canceled the publication of Halperin and Heilemann's forthcoming book in the Game Change series.
In the aftermath of the allegations, ABC News sent an email to staff saying that the company was committed to investigating allegations of sexual harassment.
Meanwhile, Leon Wieseltier, a longtime editor of the New Republic who was set to unveil a new journal at Emerson Collective, had his new publication axed Tuesday after allegations emerged that he sexually harassed several women during his time at the New Republic.
Wieseltier's name has also been removed from the Atlantic's masthead, the magazine's editor-in-chief told staff Friday.
Allegations against powerful and recognizable men in media such as Halperin and Wieseltier have surfaced in the wake of stories about the conduct of Hollywood mogul Harvey Weinstein, who has been accused by more than 50 women of sexual harassment or sexual assault. (Weinstein has denied the assault allegations.) But Wieseltier and Halperin are far from the only men in the media world who have been accused — or, in some cases, have admitted to — sexual harassment or other inappropriate behavior.
Lockhart Steele, the former creative director of Vox Media, was fired from the company Oct. 19 after a former employee published allegations on Medium that he sexually harassed her.
A spokesperson for Vox Media provided the following statement:
"Lockhart Steele was terminated effective immediately. Lock admitted engaging in conduct that is inconsistent with our core values and is not tolerated at Vox Media. Vox Media is committed to fostering a safe and welcoming community and appreciates those who have been willing to speak up and share information during the course of this investigation."
The company spokesperson said Vox would not comment further due to an ongoing investigation into the accusations.
Sam Kriss, a freelance writer whose articles have appeared in Vice, the Guardian, Jacobin and the Baffler, had his membership in the U.K.'s Labor Party suspended and has been cut off from some publications following an allegation he made repeated unwanted and aggressive sexual advances to a woman acquaintance. In response to the allegations, which were made in a post online, Kriss issued an apology claiming he "wasn't fully aware of how unwelcome" his advances were.
Some of the disciplinary actions taken by certain media companies have aligned with information contained in an anonymously authored Google spreadsheet (titled "Shitty Media Men") that circulated in the wake of the Weinstein allegations. The spreadsheet, which Mic reviewed before it was deleted, accused more than 70 men from various publications of engaging in some form of workplace misconduct. Those allegations ranged from making women feel uncomfortable at work to claims of sexual assault or other forms of violence.
The spreadsheet contained unverified allegations and a disclaimer said the accusations should be taken with "a grain of salt." But since then, at least one man named on the the spreadsheet — Wieseltier — has faced consequences.
In recent days, other companies have sought to address the fact that several of their own employees were named on the list. BuzzFeed's chief people officer, for instance, sent a note to staff Tuesday expressing the company's commitment to investigating claims of sexual harassment in the workplace after several of the company's employees appeared on the list.
Meanwhile, different allegations have surfaced online in other ways, either via social media or on blog posts.
For example, Robert Scoble, a prominent tech blogger and technology evangelist, has been dumped from the board of advisers of the VR/AR Association, a virtual reality and augmented reality organization, following allegations of sexual harassment. Scoble, who once blogged for Fast Company, also resigned from the Transformation Group, an AR consulting firm he cofounded, in the wake of the allegations.
Scoble first apologized in a now-deleted Facebook post Oct. 20, writing that he was "deeply sorry" and claiming he had "improved" his behavior since abstaining from alcohol. But on Wednesday, after more allegations surfaced, Scoble issued a much longer statement saying his accusers had ulterior motives.
He also claimed his behavior could not be classified as sexual harassment because he was never "in a position to make or break their careers." But this is untrue — sexual harassment can occur regardless of the harasser's potential influence over the victim's professional life.
As of Thursday night, E! News correspondent Ken Baker is now facing allegations of sexual harassment from two women. A spokesperson for the show did not immediately respond to Mic's request for comment, but told The Wrap that Baker would not appear on air until the company had completed an investigation into the matter.