Taste Test: The best chocolate peanut butter cups you can buy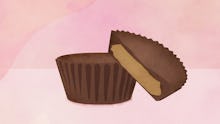 Peanut butter cups are a divine concept, a combination of heavenly textures and flavors that should make even the most agnostic among us believe in a higher power. Biting into a Reese's sends the taste buds on a flavor roller coaster: Our taste buds adore contrasting textures and the delightful sensation often causes us to eat more, Gregory Ziegler, a Pennsylvania State University food science professor who studies chocolate, previously told Mic. He noted the scientific term for the mouthfeel of contrasting textures is "dynamic sensory contrast."
These days, Reese's isn't the only peanut butter cup on the shelf, and there are several reputable peanut butter cups made with dark chocolate, too. To separate the best from the rest, Mic staged a taste test of seven peanut butter cups: three using milk chocolate and four using dark chocolate. Sugar highs and stomachaches ensued, but our discerning testers came to some pretty sweet conclusions.
Our methodology
The peanut butter cups were unwrapped, cut into quarters and placed on separate plates. Testers were asked to give feedback on taste, chocolate flavor, peanut butter flavor, texture and ratio of chocolate to peanut butter.
Each tester ranked the milk chocolate peanut butter cups first, then the dark chocolate versions. For the milk chocolate cups, three points were assigned to brands ranked in first place, two to those ranked second and one to those ranked third. (We used a similar scoring process for the dark chocolate cups.)
Milk chocolate peanut butter cups results
This organic, non-GMO variety scored last in our test. "The outside is powdery, and it kind of has a bitter taste," one tester said. "I'm not here for this one at all," another wrote.
Several people noted that it tasted like a health food; one person did like the salty taste and chewy texture, though.
Second place: Trader Joe's Milk Chocolate ($4.29 for a 36-cup tub; 180 calories per 3-cup serving)
"Suspiciously soft" is how one tester described these bite-sized cups from Trader Joe's. Tasters enjoyed the prominent chocolate taste and the smooth mouthfeel but noted it fell apart pretty quickly. "It's got no bite!" one person said.
First place: Reese's Peanut Butter Cups (78 cents for a 2-cup pack; 220 calories per 2-cup serving)
No shock here. Several testers took one bite of this sample and identified the brand immediately. "Tried and true! I know this is a Reese's," one said. Many noted the beloved cup's intense sweet-and-salty flavor.
"A bit un-nuanced, just a blast of sweet — a delight," one tester said.
Dark chocolate peanut butter cups results
Last place: Unreal Crispy Dark Chocolate Peanut Butter Cups ($5.99 for an 8-cup pack; 70 calories per 1-cup serving)
With fair trade and organic, non-GMO ingredients, Unreal is the good-for-the-planet brand among the bunch — health nut Tom Brady is a fan and an investor in the company. (But it's not quite "healthy" candy, because let's face it, that will never exist.)
Our testers were split on the puffed quinoa that gave this candy a Crunch-bar-like crackle: One person said it was like "if Pop Rocks was a peanut butter cup," but others didn't like the added texture. Several people felt this candy wasn't overly sweet or cloying and that it lacked enough peanut butter.
Justin's was another organic option in our tasting, but testers didn't take kindly to this dark chocolate cup's texture. "Sandy, weird," one tester said of the filling. Another noted the chocolate overpowered the peanut butter; someone else said the peanut butter tasted powdery — "almost like a protein bar."
Second place: Reese's Dark ($1.39 for a 2-cup pack; 210 calories per 2-cup serving)
People gave the dark version of Reese's high marks. "An everyman's peanut butter cup with a little less sugar than Reese's," one person guessed. (They were right — Reese's Dark has 19 grams of sugar per two cups, compared to the 22 grams in regular Reese's.) Other testers liked the chocolate taste but said it wasn't a "dark" flavor — but that the crumbly and sweet peanut butter made up for it.
Winner, winner, peanut butter cups for dinner! The Trader Joe's dark chocolate cups were universally liked by our testers. "Smooth, rich, a lovely chocolate-to-peanut butter ratio," one tester said. Many adored the generous portion of peanut butter, though some commented the peanut butter was a touch too sweet. Others said it had the ideal level of salty taste. "The peanut butter really harmonizes with the dark chocolate," one person said. "Ooh, this one nails it."
When we asked our testers to create an ultimate ranking of all the peanut butter cups, the Trader Joe's Dark Chocolate again came out on top — even beating out the hallowed milk chocolate Reese's.