Christian Siriano talks a genderless fashion future as he celebrates a decade of design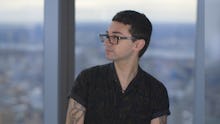 For 10 years, Christian Siriano has continued to push fashion forward. With his eye on a future where models of different races, genders and sizes walk the runway alongside one another, and actresses of all different sizes never have to beg to be dressed by a designer for a red carpet, Siriano is considered to be one of the most progressive and fashion-forward designers out there.
With an upcoming book titled Dresses to Dream About that focuses on his own history creating breathtaking gowns for all types of people, Siriano is looking back on his career with pride. He's been able to dress extraordinary women such as Oprah and Michelle Obama, all while keeping to his own mission to make fashion a more inclusive and interesting place.
So when Mic sat down with Siriano recently, we got to talk about his dedication to diversity, dressing all types of women for the red carpet, his most recent fashion show with Leslie Jones cheering the models on and how he hopes fashion comes to embrace a more diverse range of women.
Here are some the highlights:
On having men walk in his womenswear show this past season
Obviously I'm not a menswear designer, but I don't think that there [are] as many rules anymore. Why can't men wear beautiful women's clothes? I never really understood that, because I think even me growing up... if I couldn't find a jacket in the men's department, I would buy a women's jacket. So I think that was what I was trying to show. Yes, it's not menswear, but I think men can wear anything. Who cares?
As long as you look great and feel great, that's all that matters.
On Leslie Jones screaming at his fashion show
Leslie was very intense. I think she thought she was at a Knicks game. Honestly, it was so genuine though, because I think she had never been to a fashion show before. She didn't know what to do. She also loves [model] Coco [Rocha], so her cheering, I think she just was really feeling it. I think it was nice, because we know a lot of editors who can get so grouchy during fashion week and I think everybody needed a little — like we said, fashion should be fun. Getting dressed, that should be the fun, great part of the day. It shouldn't always be so serious."
On dressing Leslie Jones and the reaction it got
I always think it's strange when people can't get clothes. I just think that's the weirdest thing. So yes, I think also, for her, it was a little bit of humility to be like, "Oh, nobody will dress me." That takes a strong person to say that, because it can be embarrassing. So for me, I wanted to take that fully away and make her feel so good and just throw it in everyone's face, and I do call it my 'Pretty Woman' moment, because I wanted to give her that. She deserves that. She has a great body, she looks amazing, she's an amazing actress, she's so genius. So why not?
On a possibly genderless fashion future
I think it definitely will always be a balance. Every brand will have to make those decisions for what works for them. Maybe certain brands it wouldn't work for. Their male customer is [interested] in classic menswear, so that's fine. I think that's really what it is. I like that we have male customers coming to us for dresses, for gowns — it's super exciting. I love it. It makes it fun for a designer. It can get the same every season after season, so it's nice when new things come around like that.
On being known as a designer paving the way for a more inclusive fashion future
Listen, I'm super proud of what we've done. Sometimes it is interesting when people say, "Oh, it's so great that you're dressing women of shapes and colors." And I'm like, "Well, we've been doing that from day one." I think sometimes it takes a little while for people to notice, and that's OK. I think what's great is that the industry is changing so much and that's awesome. I am glad that I am able to help push it along a little bit. Again, I am doing things just because we want to do them. There's no one telling me and my team what we should be putting on the runway, what we should be doing. I got rid of that a long time ago, because that was not working for me. Listening to so many ears and so many people in my ear — that was a challenge. So now, we're doing better without it.
On what it's going to take for fashion to be more inclusive
Honestly, I just don't know. I get that question all the time and it's so hard to think about what is in another designer's head. For us, it's such a simple thing. For a long time, I will say, there weren't curvy, plus girls available at agencies, which is why they didn't exist. Now there are, so there is no excuse for that. And then I think, beautiful people should be wearing and representing the clothes, because I think that's what the customer is. They're anyone — who knows who's buying your clothes at retail, and that's the job. We're here to sell clothes as a designer. So I think alienating someone is just not smart, which is why a lot of young brands are going out of business every single day. They're not embracing what's happening in the world. So I think that's what I say to them.
On what it's like looking back at the women he's dressed over the past 10 years
As a young designer you have goals. You have dreams. "I dream to dress these people," or "I dream to be on the cover of 'Vogue'" or whatever it is. So a lot of my dreams came true, which is awesome. And that's the best part. That's what my book is about, 'Dresses to Dream About', because I was a little kid that wanted to be a designer. I still just love clothes. I didn't know what was happening in the fashion industry. So when people like Celine Dion and Oprah and Michelle Obama get to wear something that I made, it just feels good. And that's really nice because not every day is a feel-good moment, and that's what it's about.
You can watch Mic's entire interview with Siriano below: