Is rent-to-own a ripoff? Rent-A-Center has been overcharging customers, study finds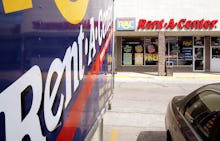 When you're making a big-ticket purchase like on a car or a home appliance, the idea of paying full price upfront can be intimidating. After all, which sounds more manageable: paying $240 now or $10 a month for the next two years? Yet at least one company that charges in installments appears to be exploiting consumers — by charging monthly fees that sum to as much as three times retail price, according to a new study by personal finance site NerdWallet.
Rent-to-own is a big industry, with more than 4 million U.S. customers annually and about 8,600 stores, often near low-income neighborhoods, according to a recent industry report. While competitors like Aaron's and others exist, the Fortune 1000 publicly traded company Rent-A-Center — the subject of NerdWallet's investigation — is considered the industry leader.
In general, rent-to-own is a compelling value proposition for low-income people without credit, NerdWallet's Liz Weston said: "You're promising to pay for the items over time, so if you do bring the stuff back, there's no obligation beyond that," Weston said. "That's what makes it so appealing to folks... who have low or erratic incomes."
Yet Rent-A-Center customers may end up paying two or even three times the total value of their purchases at the end of the day, compared to what they would have paid a conventional retailer like Amazon, Best Buy and the Home Depot, NerdWallet found. A certain Samsung Blu-ray player, for example, might be normally less than $200, but NerdWallet found purchasing the same model through Rent-A-Center would cost more than $560 all told.
The truth is it's almost always going to be better to pay for a purchase upfront than in monthly installments. But that's especially true when sneaky expenses get tacked on to accruing interest charges: Once you factor in Rent-A-Center's base fee, rental fee and add-on fees, the total cost of a purchase can balloon beyond even what you would have paid using a high-APR credit card.
"It's such a high premium to pay for what you're getting," Weston said of Rent-A-Center's costs. "We had [examples where] someone could just save for 10 weeks and buy the same thing."
On its website, Rent-a-Center advertises itself as a better alternative to using credit, but NerdWallet's analysis found that's not always the case. Indeed, NerdWallet estimated that the effective "annual percentage rate" on Rent-A-Center's lease agreements can range between 43% and 468% — far higher than most credit card rates and comparable to rates on payday loans. Purchasing something on layaway or even using a subprime credit card will usually come with APRs below 36%.
And people also often don't realize that if they return the items after missing some payments, they can still be held liable — or even have their obligations purchased by a debt buyer, Weston said.
One of the most alarming consequences? Falling too far behind on a lease agreement can actually land a consumer in jail. "We don't have debtors prisons in the United States," Weston said. "But there's some stores that really pursue this, there's some counties that are really getting arrest warrants."
The consequences for breaking a lease agreement with Rent-a-Center are more serious because it considers itself a direct (or "first party") lender as opposed to a debt-collector or servicer, and so it does not necessarily fall under the scope of the Fair Debt Collection Practices Act.
The company has said in the past that it follows the spirit of that law, but a joint investigation from NerdWallet and Raycom Media found customers describing numerous instances of abusive debt collection practices, including hundreds of cases where consumers said they had already cleared their accounts.
According to the investigation, the Federal Trade Commission received more than 2,700 complaints about Rent-a-Center and its subsidiary Acceptance Now between January 2016 and June 2017, and more than 90% of them were about collection practices. That's far more than the findings of a 2016 Freedom of Information Act request from Gizmodo, which found just 421 complaints.
In some cases, even customers who squared leases with Rent-a-Center still found themselves targeted by debt buyers due to missing paperwork, NerdWallet found. About 200 people filed FTC complaints against Acceptance Now for not being able to verify their payment history. And about 60 of them said there were errors on their credit report as a result.
If you're already in a rental agreement with Rent-a-Center, NerdWallet recommends trying to pay the item off within the first 90 days of signing the agreement, before the terms and extra fees kick in.
You can also return any items you've had, though you will lose whatever you've sunk into it already. Finally, if you're being harassed by debt collectors over what you owe, you can also try calling the police.
As for other alternatives? The best is to simply save your money and buy the items upfront. Buying used and working the thrift store circuit can also help you find more affordable items that won't require you to enter into such an expensive lease.
Rent-a-Center didn't immediately respond to a Mic request for comment on the allegations outlined in NerdWallet's report.
Sign up for the Payoff — your weekly crash course on how to live your best financial life.