The inspiring story behind the viral video of Milwaukee students rapping about academic excellence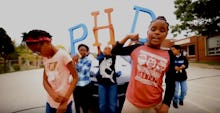 A group of Milwaukee middle school students took the internet by storm this past week with their music video "Excellence First!" The hip-hop-inspired visual, released Oct. 21, has racked up more than 50,000 views on YouTube as of Friday afternoon. On the track, the middle schoolers are confident about their academic hustle and future as they hold up a Ph.D. sign, tackle science experiments and read history books.
"Michelle Obama showed me how to do it. So I'mma get it. Educated, motivated, melanated, elevated," one talented student raps on the second verse.
Terrance Sims, a sixth grade math teacher at Milwaukee Excellence Charter School, is the creative educator behind the viral production. He directed the video with the help of a friend. The 28-year-old, who started teaching at the middle school this year, introduced the song to his students on their first day to wire their minds for success.
"I really wanted to set the tone of my classroom being culturally relevant," Sims said. "So I used a popular song that was out at the time to welcome my kids into the classroom on the first day of school."
"Excellence First!" borrows the beat from Detroit rapper Tee Grizzley's "First Day Out."
Sims' students loved his rendition so much they began sending him their own lyrics to add to the song. With their contributions, Sims tweaked the lyrics to create the final product. Once the song was completed, he allowed eager students to try out rapping the track in front of class. This is how the lead rappers — wowing viewers as high-profile as rapper Common and ESPN's Jemele Hill — were chosen.
"Both of their voices sound like they are supposed to be on that track," Sims said. "This song was about academic aspiration and being in college and it worked out that the two girls that were meant for the track also have 3.7 GPA or higher." Their success has inspired other students to speak their peace too, which means more videos and songs are coming.
"Now we have a whole group dedicated to kids preaching about and rapping about experiences," Sims said. "So we'll have a series of music videos that will highlight different aspects of a sixth and seventh graders' life and how they navigate through their issues."
Sims grew up in Milwaukee and went on to receive his undergraduate degree in zoology from the University of Wisconsin-Madison. After college, he took a year off to study for the Medical College Admission test. In the meantime, he became a teacher's assistant — but he felt his work in the classroom was filled with purpose and stuck with teaching. He received his master's in education in May.
Playing the piano in his late father's church inspired him to use the arts as a vehicle to drive his lessons in the classroom. His dad passed away from cancer in February, so Sims' work honors his legacy.
"He was a pastor and the story goes he was tired of firing musicians who wouldn't show up on time for Sunday services so he had me learn the piano," Sims said.
"So me learning the arts through that experience kept me concentrating in school. If my grades failed, it was going to be issues with me being able to practice and work at the church. So I thought, 'If art outside of school kept me focused on school, what would happen if I brought the arts into the school building?'
Sims's ultimate goal is to empower students as they matriculate through high school, college and higher education. "I think a lot of schools talk about college prep but never going on to finish college and on to obtain higher degrees," said Sims. "So I really wanted to push that college was the goal and you can be the top student there."
He also wants to give them a stronger sense of identity as black people with these affirming lyrics.
"I'm a queen. I'm a king. I can achieve anything. I am smart, I am strong, my life matters. I'm a blessing," the students chant toward the camera in "Excellence First!" With teachers like Sims, and now a larger community ready to support them for their hard work, these students are sure to go far.