How Trump's plan to help opioid addicts is at odds with his own Justice Department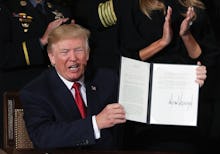 President Donald Trump declared the opioid crisis a public health emergency Thursday, sympathizing with the many people across the country impacted by opioid addiction and vowing to help end the epidemic that's "ripped apart" families and communities.
"Beyond the shocking death toll, the terrible measure of the opioid crisis includes the families ripped apart and, for many communities, a generation of lost potential and opportunity," Trump said in a speech at the White House of the opioid epidemic.
"As Americans, we cannot allow this to continue," Trump added, after speaking about how addiction has orphaned many children. "It is time to liberate our communities from this scourge of drug addiction."
Trump's compassionate talk toward those touched by the opioid epidemic, however, is not matched by the actions of his own attorney general, Jeff Sessions.
In May, Sessions reinstituted mandatory minimum sentences for nonviolent drug offenders, a practice that could put low-level drug offenders in jail for long periods of time — continuing to rip families apart.
Former President Barack Obama's administration had ended mandatory minimum sentences and advised prosectors to use their own discretion in how drug crimes are charged.
Sessions' decision to once again use mandatory minimum sentences was not only condemned by Democrats, but also by some Republicans who view the policy as a step backward on criminal justice reform.
"Mandatory minimum sentences have unfairly and disproportionately incarcerated too many minorities for too long," Sen. Rand Paul (R-Ky.) said in a statement after Sessions announced the new policy in May. "Attorney General Sessions' new policy will accentuate that injustice. Instead, we should treat our nation's drug epidemic as a health crisis and less as a 'lock 'em up and throw away the key' problem."