Apple iPhone X preorders have massive delays — but you're not screwed if you didn't order one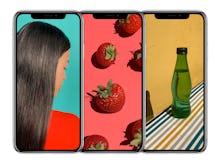 If you were awake at 3 a.m. Eastern on Friday, odds are you were buying an iPhone X — or at least wanted to.
The iPhone X release date is Nov. 3, but Apple started taking preorders of the $999 device on Oct. 27 for customers buying online. If you missed out on buying the new iPhone in the dead of night, however, we've got some bad news for you.
As of Friday morning, Apple's official store showed the iPhone X as available in five to six weeks if purchased immediately — meaning if you're hoping to get your iPhone X sometime soon in an effort to limit FOMO, it's likely you've already missed your chance. There's still time if you plan on buying one as a Christmas present, but that window is closing, too.
What to do? Get to an Apple Store at the crack of dawn on Friday, Nov. 3 — and be prepared to line up. Apple says it'll have the iPhone X available for walk-in customers starting at 8 a.m., but you're "encouraged to arrive early."
If Virgin Mobile happens to be your cell network of choice, you're in luck: The carrier will begin taking iPhone X orders on Nov. 3. Boost Mobile will also make the iPhone available for order in November.
Those who purchased the iPhone X on Oct. 27 might tell you the experience was nerve-wracking. It seemed that the slower you ordered on Apple's site, the later your device was slated to arrive. Reddit user jtaneo90 said they received order confirmation at 3:05 a.m. Eastern and got a Nov. 17 to 24 availability in return. Redditor themariokarters said they ordered a few minutes after preorders became available and received the same delivery window. Though for some buyers, like reddit user wendyandlisa, they were awake for the 3 a.m. release time, but received a Dec. 3 delivery date due to network troubles trying to access Apple and AT&T.
Others apparently had better luck buying through third-party stores. Reddit user errrent said they ordered through T-Mobile during daylight hours on Friday and should receive the iPhone X sometime between Nov. 3 and 10. Dubsauce522 said they purchased their device through Best Buy and received an early arrival date as well. One member of the Future Is Now team successfully pre-ordered an iPhone X from the AT&T website (not the app) with an estimated Nov. 3 delivery. I'm as jealous as you are.
The iPhone X is many things, but cheap isn't one of them. The device starts at nearly $1,000 for just the 64GB version and reaches $1,149 for the 256GB variant. And make sure not to break the device without AppleCare, as repairs will cost you $279 to replace the screen and $549 to fix other damages — $200 more than a brand new iPhone SE. Prep your "you break it, you buy it" jokes from now.