5 questions for top Democrats after the latest revelations about the Russia dossier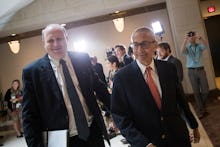 Welcome to Mic's daily read on Donald Trump's America. Want to receive this as a daily email in your inbox? Subscribe here.
Every day, we bring you a different dispatch on Trump's America. Today's focus: Russia.
Friday's dispatch: 5 questions for Democrats about the Russia dossier
In just under two weeks, the U.S. will mark one year since Donald Trump was elected president. But Democrats may have a new reason to lament last year's crushing loss.
Reporting from the Washington Post earlier this week revealed Clinton's campaign and the Democratic National Committee helped fund research last year for the dossier that made unsubstantiated allegations about Trump's past activities in Russia. Much of the dossier has been independently verified.
A law firm, representing the Clinton campaign and the DNC, financed Fusion GPS, a firm in Washington, to conduct the research into Trump. Fusion GPS hired Christopher Steele, a former British intelligence agent, to write the now-famous dossier that BuzzFeed made public shortly before Trump's inauguration. The initial research into the dossier was funded by an anti-Trump Republican.
Here are five questions that need to be answered by former Clinton and DNC staffers, including John Podesta, who was chairman of Clinton's campaign, and Debbie Wasserman Schultz, who was chairwoman of the DNC when the research began in April 2016.
1) Did Podesta and Wasserman Schultz lie to Congress? According to CNN, both top Democrats told congressional investigators earlier this year they had no knowledge of who financed the dossier. Lying to Congress is a crime and can lead to perjury charges.
2) What was the role of Podesta's attorney? Podesta's lawyer, Marc Elias, sat next to him during his Capitol Hill testimony when Podesta said he did not have a role in paying for the dossier. But Elias' law firm reportedly retained Fusion GPS to conduct the research.
3) Who exactly was paid to finance the dossier? It's now understood the DNC and Clinton campaign both funded research into the dossier. According to the Washington Post report, the Clinton campaign paid $5.6 million to the firm which retained Fusion GPS over the course of the campaign, and the DNC paid $3.6 million. But it's unclear how much was paid to Fusion GPS, and who was involved in the dossier aside from Steele.
4) How will Congress respond? A House and Senate controlled by Republicans almost guarantees a full-blown inquiry into who in Democratic circles knew what about funding the dossier.
Senate Intelligence Committee Chairman Richard Burr (R-N.C.) to CNN: "This ... will require us to dig a lot deeper in some areas that maybe a week ago we weren't planning to."
Rep. Trey Gowdy (R-S.C.), chairman of the House Oversight Committee, said he wants to discover whether the FBI used the dossier as any basis to open an investigation into Russia's role in the 2016 election.
5) Did the Clinton campaign have to disclose payments for the dossier? One group is already trying to find out. A complaint filed with the Federal Election Commission accuses Clinton's campaign of having violated campaign finance laws by not reporting payment for the dossier.
In sum: There are a lot of loose ends for top Clinton Democrats to tie up. And Republicans will likely pursue every avenue available to make this a prominent, public investigation. They're only just getting started.
And broadly speaking, most former Clinton and DNC officials are staying quiet about what they knew about the dossier, including Clinton herself.
Today's question: What role do you think top Democrats had in the Russia dossier?
Please email trumpsamerica@mic.com with your thoughts.
Friday in Trump's America:
The president finally took formal action on Thursday to fight the national opioid epidemic. He stopped short of the full "national emergency" he said in August that he would declare. Instead, he declared a "public health emergency," which will loosen federal regulations, the president said. But he made no request for new funding to fight the epidemic. Here's what his move means for people with opioid addiction.
The Government Accountability Office is going to investigate the president's voter fraud commission. The nonpartisan, independent government office moved to open an inquiry after a request from Democratic senators complaining about the commission's lack of transparency.
The House will consider a bill that would ban abortions after six weeks. Many people don't know they are pregnant at that point.
House Republicans narrowly passed a budget on Thursday, following earlier passage by the Senate. But 20 members of the GOP voted against the budget. That signals trouble for tax reform, which the GOP will pursue aggressively come Nov. 1.
Rep. Frederica Wilson is getting death threats. She's not the first person who, after a highly public Twitter feud with the president, has received threats against her life.
Legal weed crackdown? Attorney General Jeff Sessions has opened the door to the Justice department going after marijuana growers, even in states where it is legal. At the federal level, marijuana remains classified as a Schedule I drug — the most severe designation.
"Toothless," "a joke." Lawmakers and staffers say Capitol Hill's sexual harassment policies are outdated and tolerate a culture of bad behavior in a predominantly male-led environment.
Russia investigations winding down — without answering a core question. House and Senate inquiries are expected to wrap up in the next couple months, potentially without answering whether Trump campaign associates colluded with Russia to influence the election results.
Today's MicBite:
In 2015, people died of opioid-related overdoses at a rate of 91 deaths per day. Here's what you need to know about the opioid crisis. Tap or click the video below to watch.
Oct. 27, 2017, 11:32 a.m.: This story has been updated.
Correction: Oct. 27, 2017