We aren't worthy of Tessa Thompson — or her incredible red carpet fashion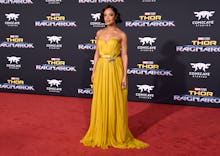 It's beginning to feel like Tessa Thompson is one of those women — like Solange, Ruth Negga and Cate Blanchett — who really makes it seem like she's the one teaching everyone else how to dress for a red carpet event.
This realization hit us hardest at the Emmy Awards in September, when Thompson showed up in a rainbow metallic, pleated gown by Rosie Assoulin.
Looking like if Rainbow Brite ever peaked.
Since that show, Thompson has continued to nearly make us go into cardiac arrest every time she steps out, like when she wore this marigold Schiaparelli dress to a Thor: Ragnarok premiere.
Later that very night, in an effort to kill us for good, she changed into a champagne-colored satin dress by Galvan London, with her hair in that same '20s-inspired wave that is just honestly sent from the gods.
Another highlight from these past few weeks is Thompson at the Hammer Museum Gala in the Garden, wearing a black Bottega Veneta ensemble with mesh gloves that makes her look like a stern school administrator in a noir film.
That's a long way of saying, "We are obsessed with this look."
Peep that makeup, too.
It's not just old Hollywood glam that Thompson does so well, but modern fashion, too. To the annual Women in Hollywood Awards, she wore a pattern-clashing Calvin Klein.
These looks, it should be noted, come courtesy of Thompson's stylists, Wayman Bannerman and Micah McDonald, a duo that may be meddling in witchcraft, or are maybe just really, incredibly talented. Their other clients include Serayah and Regina Hall.
As with any style icon, there was of course a time when Thompson hadn't found herself in fashion yet. But to find that Thompson, you have to go way, way back — like 2012 back.
For a while, Thompson favored more casual looks for events, which really is just fine.
But in the middle of 2014, there was a noticeable glow up coinciding with her rising fame, and Thompson started to dress in modern, interesting pieces with flair and a cool attitude.
She opted for new silhouettes and vibrant textures that made you feel like you wanted to know more about her, which is something else that reminds us of Ruth Negga.
In 2015, Thompson started to go to a lot more fashion shows, which maybe helped elevate — and inspire — her personal sense of style.
You could see the results of that starting just months after New York Fashion Week 2015, when Thompson's style started to get even better.
Like, look at these shoes.
During the press tour for Creed in 2015 and early 2016, which had her mingling with Michael B. Jordan, she regularly shut the whole thing down.
The year 2016 gave Thompson the opportunity to show us just how versatile her incredible style can be, rocking casuals while talking politics and showing up at fashion shows.
Here she is in very chic overalls talking politics with Rosario Dawson.
And here she is at an Emmys event and a Rodarte fashion show.
While plenty of stars dress well, Thompson is one of the rare celebs who takes risks and constantly gives us looks we'd never expect.
In 2017, that's been made obvious time and time again — like when she showed up at an Oscars afterparty in a slinky Zuhair Murad.
To put it simply: We don't deserve Tessa Thompson.