While You Weren't Looking: 5 stories from this week that didn't involve Trump's Twitter feuds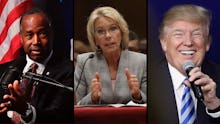 This week was rocked by yet another series of Trump-manufactured scandals, from Trump's civil war with Sens. Bob Corker (R-Tenn.) and Jeff Flake (R-Az.) to the continued fallout from Trump's feud with the bereaved widow of a fallen service member.
But as those soap opera dramas played out, the Trump administration continued to make monumental policy decisions that didn't manage to make the front page.
Here are five stories you might have missed.
Border Patrol detains 10-year-old girl with cerebral palsy on her way out of the hospital
On Wednesday, Customs and Border Patrol agents apprehended Rosa Maria Hernandez, a 10-year-old with cerebral palsy, as she was discharged from the Driscoll Children's Hospital in Corpus Christie, Texas.
The previous day, Hernandez had been taken by ambulance from a medical center in Laredo, Texas, to the hospital in Corpus Christie in order to undergo emergency gallbladder surgery.
While headed toward Corpus Christie, Hernandez's ambulance was stopped by Custom and Border Patrol agents, who then followed the medical vehicle to Driscoll Children's Hospital, where they waited outside Hernandez's room.
After the surgery, Hernandez was taken to a children's detention center, despite her doctor's recommendation that she stay in the company of family. Immigration attorneys are currently working with Hernandez's mother to try and get her released.
HHS loses its battle to prevent undocumented teen from getting an abortion
The Department of Health and Human Services has lost its weeks-long battle to try and prevent an undocumented teenager in federal custody from receiving an abortion.
The 17-year-old girl, known publicly as Jane Doe to protect her identity, had previously been blocked by the Trump administration from obtaining an abortion while under federal custody at a shelter for unaccompanied minors. The Office of Refugee Resettlement, which is housed within HHS, fought in court to refuse to take her to an abortion clinic.
On Tuesday, an appeals court ruled that the teen could have an abortion done and by Wednesday the ACLU told reporters that the procedure had been successfully performed.
Trump signs new executive order on refugees
On Wednesday, Trump signed a new executive order changing U.S. refugee policy.
The new order replaced a previous 120-day suspension of the U.S. refugee program with a new onerous vetting process for refugees from 11 countries, nine which have Muslim-majority populations.
The program also indefinitely suspends the "following-to-join" program which aims to reunite refugees in the U.S. with their families.
Refugee advocates have already come out against the new order saying it is a continuation of Trump's attempts to ban all Muslims from the U.S.
Schedules shows DeVos prioritizes private and religious schools
Education Secretary Betsy DeVos has been prioritizing religious and nontraditional schools in her first six months in office according to the New York Times.
A review of DeVos's calendar shows that she has held frequent meetings with charter school advocates, school choice voucher supporters and advocates for allowing religious schools to receive taxpayer funding.
DeVos was criticized for not devoting more time to meeting with the more traditional players in the teaching community. "She has very much undermined public schooling, which 90% of children in America attend and which is the foundation to America's democracy," Randi Weingarten, the head of the American Federation of Teachers, told the paper.
HUD Secretary Ben Carson sued for delaying anti-segregation measure
A group of civil rights groups are suing Secretary Ben Carson's Department of Housing and Urban Development over it's decision to delay implementation of an anti-segregation rule.
The group is suing over Carson's decision to push back by two years the mandatory implementation of the Small Area Fair Market Rent program.
SAFMR, which had been set to go into effect next year, would have given low income people living in impoverished neighborhoods the opportunity to move into better neighborhoods at subsidized rent prices.
A HUD spokesperson told The Intercept that delaying the implementation of the rule does not represent an change in policy with regard to affordable housing.